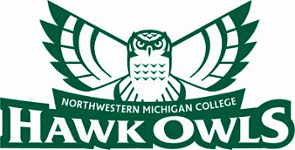 NORTHWESTERN MICHIGAN COLLEGE
WE HEW TO THE LINE;

LET THE CHIPS FALL WHERE THEY MAY.
UpNorth Pride Promotes Visibility
It's Queer, And It Has A Voice That Deserves To Be Heard.
A bright light shone on Traverse City even as October's clouds took over the sky. It was fueled by all the colors of the rainbow. This year's Up North Pride March, which took place from October 13-17 featured a celebration unlike any that has come before it.
​
Dennos Museum's "Away From Home" Documents Legacy of Abuse
"The Department of War started the boarding schools in the early 1870's as a way to deal with the 'Indian Problem'," the Dennos Museum's powerful, sobering exhibit "Away From Home" tells us. Now generally considered a cultural genocide, the motive for the schools was to erase the Native identity of the youth.
ELEV8 Climbs Its
Way to Success
There's a natural inclination for humans to want to climb. More than 4,000 people have scaled Mt. Everest, the Mission Impossible movies have Tom Cruise surmounting high-rise after high-rise, and kids will find the tallest trees they can.