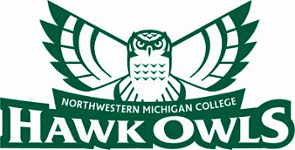 NORTHWESTERN MICHIGAN COLLEGE
WE HEW TO THE LINE;

LET THE CHIPS FALL WHERE THEY MAY.
The sun isn't the only star in our solar system. In a laboratory in California, NMC alumna Dr. Annie Kritcher creates miniature stars—a scientific breakthrough decades in the making. A Traverse City native, Kritcher recalls fond memories of Up North life—family visits to Petoskey, bonfires on the beach, and hanging out at the Old Mission Peninsula Lighthouse. Kritcher attended NMC from 2001 to 2003.


Family Beyond the Holiday Dinner Table:
5 Steps To Start Your Genealogical Tree
The winter holidays are fast approaching, and not every student has the ability to sit down with their family members this year. If you're looking for a way to fill those familial connections or your time during upcoming breaks, try building a different kind of tree with local resources this winter. Genealogy is the study of tracing your own descent or family line. This is primarily done through reviewing older documents such as obituaries, immigration records, marriage, death and birth certificates.
Alumni Spotlight: Max Anderson
Max Anderson chose NMC because it was close to home and allowed him to complete General Education requirements for less money than a university. After his studies continued
at Western Michigan University, Anderson realized NMC's facilities and staff were top notch for a community college.
On Oct. 27, the State of Michigan made its
awaited return back to the dock at Great Lakes
Maritime Academy. Instead of being able to roll
through room inspection and being able to depart like the other two groups, the Phase III cadets had to prepare the ship for its winter lay up. While the lines that hold the ship to the dock for summer can be moved easily with a few cadets, her winter lines are much thicker and heavier to resist the freezing snow and wind of Michigan winter.
Veterans Make an Impact on NMC
According to the Veterans Affairs website, more than 150 veterans attend Northwestern Michigan College. Whether you are in the process of leaving the service and want to go
back to college or attend college for the first time, or if you have been out and wish to further your education, NMC has resources to help you get started. There are none more valuable than NMC's Student Veteran Success Coach, Alex
Walsh, whose office is located in the Osterlin Building on the main Front Street campus.
The Duality of the Barbie Movie
Traverse City is not known for its crowded movie show- ings. However, two weeks after the Barbie movie premiered on July 21, Traverse City's local AMC theater was still packed with people. Barbie had done the unthinkable: drawn in people from all ages, genders, backgrounds, and locations, to have a blunt surface level discussion of patriarchy.