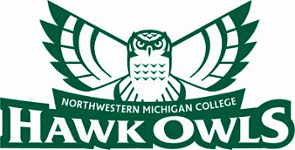 NORTHWESTERN MICHIGAN COLLEGE
WE HEW TO THE LINE;

LET THE CHIPS FALL WHERE THEY MAY.
Living In an RV, Bathing in The Bay
A young woman boils her drinking water every day and decides between running the electric heater or using the toaster oven for food. The RV she currently lives in stays at 61 degrees during the day, but that temperature is expected to drop considerably as the winter months get colder.
There is a growing epidemic of homelessness that spans the United States and reaches deep into NMC's campus. Ari, a Traverse City native and NMC student studying Psychology, struggles with chronic homelessness. For students like her, higher education goals are often set aside to focus on survival. Ari chose to remain anonymous in this story.
How an Iconic Exhibit Raised the Consciousness of Traverse City
In the winter of 1986, the "Birth Project", an exhibit of needlepoint, paintings, and drawings, depicting the metaphor of birth as creation, came to Northwestern Michigan College. Judy Chicago, the pioneering feminist artist created "Birth Project" with more than 150 artists from around the globe including dozens of images of the various aspects of the birth process; from the painful to the celebratory to the mythical. The work was deemed controversial, and debated by the status quo art world if it was actual art. When NMC announced that the "Birth Project" would be coming to campus, the word began to spread, but not just locally, for this was the first time that Chicago's work had ever come to Michigan.
View NMC Faculty Artwork Before It's Gone!
The Dennos Museum Center is honored to showcase current work by NMC art faculty Coreene Kreiser, Matthew McGovern, Randolph Melick, Caroline Schaefer-Hills, Leah Schroeder, Rufus James Snoddy, Zach Tate, Adam VanHouten, and Glenn Wolff. Each faculty member is a dedicated educator as well as a working professional artist and each brings a wealth of experience to their teaching as well as their daily practice. From Snoddy's meticulously crafted construction paintings, to Schaefer-Hills' video installations, there is an acknowledgement of the past, present, and visions of the future.

Downtown Gifts That Give Back
Misinformation is a Digital Pandemic
Young Users in the Crosshairs