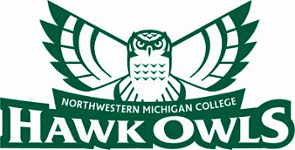 NORTHWESTERN MICHIGAN COLLEGE
WE HEW TO THE LINE;

LET THE CHIPS FALL WHERE THEY MAY.
Aidan Pool
Staff Writer
Photo courtesy of NMC Public Relations
As the snow and ice on the Traverse City streets begin to melt away, three things loom on the horizon for year-round residents: the beginning of road work, warmth, and those pesky tourists.
While tourism does provide a boost for the local economy when the weather begins to warm, they can be quite an annoyance to locals in their day-to-day lives.
"Oh there's nice weather out and you want to go to the beach? No, it's packed with tourists," said Vera Snarky, life-long Traverse City local. "Well maybe just go for ice cream then? Also, no. You can't even go for a drive with the windows down to clear your head and get away. The tourists have caused a traffic backup so you're sweltering away without any of the fun."
"This tourist season we have to be prepared to fend for our town," said Landon Yurtown, leader of local anti-tourism activist group "All My Homies Hate Tourists." "We are the ones that put up with the harsh winter months and call it our home. Why should the tourists be able to invade our space just for the sake of their family vacation?" he asked a roused group of three fellow curmudgeons. "We don't care that you slaved away all year to try to treat your kids to a beachy sunset, should have gone east not north."
Instead, Yurtown suggests we embrace the tactics of our forefathers. In April 1775, Paul Revere went on his famous ride to warn the colonists of the British invasion. Yurtown plans to take the story and make it his own. Yurtown's current rally cry, "One snow-scraper if by car, two scrapers if by boat, three scrapers if by plane!" is still in need of some workshopping, but he insists that at the first sign of any potential tourists, locals warn their friends and family. "Tell them to prepare to fight for their right to party." Yurtown recommends using all means available to keep the tourists out, including rousing local legends Dogman, the Torch Lake Monster, and the melon heads to terrorize the tourists. "We have to unite if we want to be successful in keeping this our home."
"This is our space, our igloo," Yurtown said through tears at the end of his rally. "What gives the tourists the right for them to come to our home and take away our sunny joy? They have no business being here!"
As for those tourists dead set on enjoying the beautiful summer our town has to offer? Yurtown has one suggestion: "If you truly want to enjoy the summer, move here and deal with the winter like the rest of us. Until you do that, go back to the holes from which you came."