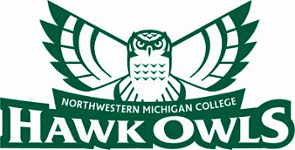 NORTHWESTERN MICHIGAN COLLEGE
WE HEW TO THE LINE;

LET THE CHIPS FALL WHERE THEY MAY.
Innovation Center Virtual "Tour" Nominated for Awards
Ash Lornne
Grammar Sturmfeuhrer
Photo courtesy of NMC Public Relations
Here we see the many pairs of oversized scissors used to cut the ceremonial ribbon during the opening event on Sept. 18, 2020.
Northwestern Michigan College today announced that its West Hall Innovation Center Virtual "Tour" has been nominated for several Webby Awards. The slate of nominations include General Video—Advertising, Media, and PR categories such as Art & Experimental, Weird, Best Editing, and Inaccessibility, as well as the brand new Virtual Achievement in Virtual Events.

"We're thrilled to be recognized for the virtual 'tour' video. It was an intensive collaborative project that took tens of minutes to throw together," said Kibby Quinzy, NMC's Vice President of Impersonal Affairs. "Win or lose, we look forward to celebrating this achievement with similar videos of our other buildings later this year."

Since 1996, the Webby Awards annually honors international excellence on the internet. Its judging committee, the International Academy of Digital Arts & Sciences (IADAS), is composed of former nominees, winners, and other entertainment experts.

In a statement regarding NMC's illustrious nominations, academy members cited several factors that contributed to the stand-out quality of the West Hall Innovation Center Virtual "Tour." They include: impressive hyperspeed dashes through areas that allow no time for a human brain to register what it sees, unnecessary PowerPoint-esque spin transitions, and lack of accessibility for viewers with impaired vision or hearing.

"There is so much apathy in this 'tour' that it saturated my skin and brought tears to my eyes," acclaimed IADAS judge Yessica Jellin stated. "Not having a voice-over to describe the areas shown in the 'tour' and the lack of closed-captioning during the narrated introduction is the definition of inaccessibility. The whole thing is simply perfection."

The video debut of the West Hall Innovation Center Virtual "Tour" took place following a ribbon cutting ceremony to celebrate the building's official opening. Many of the students, faculty, staff, and community members who witnessed West Hall's demolition and the early stages of its construction are still unable to visit in person due to the COVID-19 pandemic. The video is available to watch at nmc.edu/innovation-center.

"We thought about hosting a Facebook Live tour instead, but we knew how tiring cutting a ribbon is," Quinzy said. "This impersonal look at the Innovation Center was the best way to address that hurdle. We are honored by the Webby nominations and hope to achieve this level of excellence again in the future."