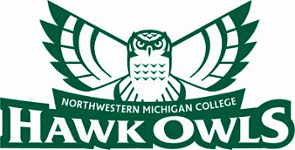 NORTHWESTERN MICHIGAN COLLEGE
WE HEW TO THE LINE;

LET THE CHIPS FALL WHERE THEY MAY.
NMC Pride Holds Social Mixer
Photos courtesy of Gabbi Chavarria
Gabbi Chavarria
Staff Writer
NMC Pride, the college's LGBTQ+ Pride group, held a social mixer Thursday, April 7 from 6 p.m. to 8 p.m. The get-together included board games, coloring sheets, and dinner and snacks, all provided by the group.
Faculty Advisor Denny Nguyen greeted visitors upon entry, and provided some information on NMC Pride's role in the community. "The group is open to anyone who wishes to join, and we work with LGBTQ+ members of the student body and faculty to ensure our campus is inclusive and supportive," Nguyen said.
The mixer was open to all NMC students as an effort to get the word out about NMC Pride, welcome new members, and to provide a safe space for all people to meet and mingle over dinner, tea, and games. The night started out with Animal Crossing Monopoly, Go Fish, and a few rousing rounds of Banana-Grams. Other students colored, or chatted on the couches while munching on the provided pizza and drinking hot chocolate.
Ellie Young, a first-year student who was joining the group for the first time, said she had been interested in joining the group for a while. She played and won a game of Monopoly before moving on to chat with some new friends. She said she was "having a lot of fun" at the mixer.
NMC President Nick Nissley stopped by for a hand of Go Fish and a few rounds of Banana-Grams. He seemed to enjoy the games but clinched the win in neither.
Some attendees played a few intense rounds of Jenga, while others colored Pride and Black Lives Matter themed coloring sheets. Everyone was chatting, laughing, and having fun.
NMC Pride currently meets Fridays at 4 p.m., but for those who can't make it there is a weekly email bulletin sent out with events happening around campus, ideas for future meetings, proposals for future events, and general pertinent information and news. You can get on the email list by contacting Denny Nguyen at dnguyen@nmc.edu.
Photo courtesy of Hannah Gaither