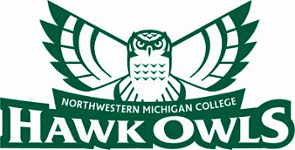 NORTHWESTERN MICHIGAN COLLEGE
WE HEW TO THE LINE;

LET THE CHIPS FALL WHERE THEY MAY.
Commencement Ceremony Scheduled for 2020/2021 Graduates
Kathryn DePauw
Editor in Chief
Photo courtesy of Hannah Gaither
Hannah Gaither at her new job at 45 North Vineyard and Winery on Leelanau Peninsula.
During this challenging year, successes have felt hard-won and celebrations have held special meaning. For 2020 graduates unable to participate in a typical commencement ceremony, the loss may be only temporary. NMC has scheduled a walkthrough commencement for both 2020 and 2021 graduating classes.

For graduates like Hannah Gaither, being able to walk across the stage is important. The past year she has pushed herself to make her graduation goals, working three jobs and a full course load this semester. The prior fall semester was no easier—she worked her required internship full-time and had a 17-credit course load. She couldn't have gotten through it without a positive mindset. Gaither says it was important to look on the bright side during those difficult months. She told herself "Hey, I'm almost done! Why stop now?" and admitting that "If I would have stopped, I probably wouldn't have started again."

Her perseverance paid off. Gaither is graduating this spring with her Viticulture certificate through the Plant Science program. The program is a partnership between NMC and Michigan State University's Institute of Agricultural Technology and offers an Associate of Applied Science Degree and three certificate options. Gaither earned her first certificate in the program, in Fruit and Vegetable Crop Management and an Associate in Plant Biology from NMC, at the end of the fall 2020 semester.

While there was a drive-thru graduation for the class of 2020 at the end of July, the May event will allow graduates to walk across the stage at Milliken Auditorium. Safety guidelines will be followed and include face coverings, social distancing, and restricted access. Students may bring up to four guests into the auditorium for their scheduled walk. The school will try to group students by program so that classmates and faculty can celebrate together. For those family members that cannot attend, the event will be streamed live at youtube.com/NorthwesternMichiganCollege. There will also be tents, photographers, and more outside.

With an uncertain economy, many graduates may not know what their next step is. For the lucky, like Gaither, their future is already secure. She took her first viticulture class on a whim, to fill a requirement. Two semesters later, and she finds herself in a career she is very excited about. She was hired at 45 North Vineyard and Winery on Leelanau Peninsula as a Cellar Assistant one month ago after working her
internship at Chateau Grand Traverse.
​
Gaither attributes her ability to acquire a job partly to her instructors and the tight-knit, supportive farming and viticulture community. The program is designed to introduce students to business owners and others in the area. According to Gaither, "You get to know a little bit of everyone" through the various certificate programs. Although many classes had to cancel trips to local businesses, the relationship between the program and industry has stayed strong. It was an instructor that made Gaither aware of the job opening at the 45 North Vineyard and recommended she apply for it.

Gaither will be attending the May 1 walkthrough ceremony and she has another graduation ceremony to look forward to after completing her Associate in Business Administration at the end of summer 2021. Commencement is an important part of the college experience. According to Gaither, it represents the completion of an important life milestone, a "job well done!" This year, it represents a bit more to her. "The last few semesters of college, with COVID, it kind of made me realize, like, appreciate what you have because you have to be prepared for anything in life. You always have to find the good side of things."