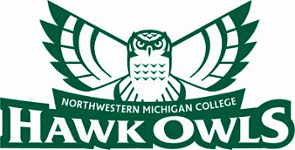 NORTHWESTERN MICHIGAN COLLEGE
WE HEW TO THE LINE;

LET THE CHIPS FALL WHERE THEY MAY.
Adjunct Faculty on the Rise at NMC
Sara Bagley
Staff Writer
"[Adjuncts play] an incredibly important role," said Nick Nissley, president of Northwestern Michigan College (NMC). "They bring a heightened relevance of what's happening now, and really help broaden curriculum in some times."
US News lists NMC as tied for the number one public college. And behind every great educational institution is a group of caring, hardworking professors. NMC is no different. With 290 instructors covering 80+ areas of study, NMC strives to offer the best education and resources possible for every student that comes through its doors, whether they are there for a 2 or 4-year degree.
Of those 290 instructors, 209 are adjunct faculty. Adjunct faculty, sometimes known as at-will or part-time employees, operate on semester-long contracts. "Adjuncts usually have full-time jobs," Nissley said. "They have a love for teaching and engaging with students." Nissley, who worked as an adjunct professor himself between 1995 and 2000, described his experience. Despite working 60-70 hours per week, he showed up at the college on Saturday mornings to work with students who also had jobs and lives.
While both full-time and adjunct faculty have the same educational and field experience requirements before hiring, adjuncts have no job security and no union to protect them. However, adjunct faculty do have access to programs, including tuition reimbursement for themselves and family members, and receive funding access for teaching and field development. "We're very mindful about how we compensate," Nissley said. "We try to get [NMC] adjuncts within the top 20% of adjunct faculty." He stressed the importance of acknowledging their contribution with the Adjunct Excellence Award given at commencement ceremonies, and making sure adjunct faculty participate in committee boards throughout the college, including the committee for the new Diversity, Equity, Inclusion, and Belonging Initiative.
Even still, some adjunct faculty have not felt appreciated.
"The definition of adjunct is not essential. We're a thing added on," said Andrea Gerring, an adjunct professor currently teaching art history. She has held her position at NMC for 12 years. Soon after she started, a full-time instructor of art history retired, and she hoped to take over that position. Instead, NMC eliminated the full-time position—and adjunct faculty filled the hole.
Over the 2020-21 and 2021-22 academic years, six full-time instructors retired. According to Mark Liebling, AVP of human resources at NMC, there have been four regular faculty and 37 adjunct faculty hired so far this year. "A lot of full-time positions, people are retiring, and they're replaced with adjuncts. It doesn't serve the students," Coreene Kreiser, a former humanities adjunct faculty member, explained. "You're not fully invested in the college because the college isn't fully invested in you."
Kreiser, the sole instructor for Photography I and Photography II, as well as an instructor for 2D design, claimed that she had several issues with administration during her four years at NMC, including bullying, neglect, and dismissal of her concerns. "It was drilled in me. I was just an adjunct. I was disposable," Kreiser said. "They listen to your complaints, nobody does anything."
Gerring claimed to have had similar experiences. NMC gave her courses to a full-time teacher so that they could get overload pay, according to Gerring, and she didn't know where to turn for help. She said she experienced a less-qualified, full-time instructor take over the online class she built, while NMC forced her to teach in-person. "There's too much 'he said, she said,'" she shared, adding, "NMC seems to make decisions before asking if this is in the best interest of the students."
After this experience, Gerring has challenged whether the quality of the course is sustained when courses switch hands, as students put trust in NMC to provide them the best education possible.
Kreiser, after accepting a full-time teaching position at Greenspire High School, found herself questioning the college's commitment to the students as well. With the full-time position taking over her days, she requested to move her office hours or necessary in-person sessions to evenings. NMC denied her request and let her go three weeks before the spring semester started.
NMC reassigned her photography classes to a drawing instructor- who taught the course using the existing Moodle content.
However, when Kreiser left, she took the Moodle content with her, as it was all information and lessons created by her based on her skills and experiences as a professional photographer. Eventually, NMC canceled the class. "The students and the college are the ones losing out," Kreiser said. "I got into teaching to help people and teach people."
Even given their different experiences, Kreiser, Gerring, and Nissley all agree that teaching is for the love of the student. "The ultimate goal is about student success," Nissley said. "In the end, you're the one who receives that education."
Photo courtesy of Hannah Gaither