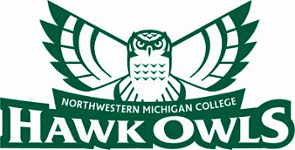 NORTHWESTERN MICHIGAN COLLEGE
WE HEW TO THE LINE;

LET THE CHIPS FALL WHERE THEY MAY.
Yarrow Brown on Motherhood and Housing
Gabbi Chavarria
Editor in Chief
John Osmond
Staff Writer
"I enjoy a good challenge, and housing is something that is a huge opportunity and challenge in our community," said Yarrow Brown, the executive director for Housing North, a non-profit organization that seeks to solve the housing crisis in Northwest Michigan. A Jan. 22, 2022 Northern Express article reported a 10% increase in the homeless population from 2021 to 2022. Those most affected are the asset limited, income constrained, employed (ALICE) and homeless populations, but the rising costs of housing has impacted every level of income.
Brown grew up in Menominee County in the Upper Peninsula. She first moved to Traverse City in 2008 and worked at the Leelanau Conservancy doing water quality testing, watershed planning, strategic planning, and mapping. "I immediately fell in love with the region and feel grateful every day to live here."
Brown said her strong personality has brought a lot to her career, and that her "ambiguous" name, Yarrow, "has worked to [her] advantage and has at least gotten [her] in the door for opportunities."
More than anything, Brown identifies as a mother. "I think balancing being a mom and full time professional is intense, but also really fulfilling," she said, adding "I enjoy balancing my work life with my home life and feel it makes me a stronger and better professional and parent."
Brown applied for the Executive Director position at Housing North in the spring of 2020. "I have always wanted to take the tools in land protection and apply them to housing including growing and expanding the community land trust model," she said. The community land trust (CLT) model is a form of shared equity ownership where public and private investors can purchase land on behalf of a specific community that the CLT owns in perpetuity. Brown was enthusiastic about tackling the housing crisis challenge. "I knew I could help or at least take a part in moving the needle on bringing more housing to our region and help removing some of the key barriers to housing through communications and advocacy," she said.
Sarah Lucas, Housing North's founding executive director, laid out an inspirational path for Brown to follow. "I always admired her professionalism and was confident she had built a strong organization that would allow me to continue the important work at Housing North." Outside of her organization, Brown said she draws inspiration from her parents who taught her about the work-life balance required to be a mother with a career.
Brown stated that the housing crisis currently affecting Traverse City is a multi-faceted issue without a one-size-fits-all solution, but that if she had to nail down the biggest challenge it would be having access to the "capacity or resources including technical support to guide our communities to create more housing and remove barriers."
In order to pay for new housing units, the city would need to "support-tax abatements, reduced land cost, grants, low interest loans, and more."
There are some who are not in favor of the housing initiative. Critics are not supportive of this plan as it would require higher taxes and more developments in Traverse City. "Our job at Housing North is to help train [affordable housing] advocates and connect people with the resources to speak about housing and investing in housing in our communities that is not divisive and can help create positive change," said Brown. She was clear that it wasn't simply about allowing developers to build more, but "finding ways to bring in the development we need to allow our community to thrive. Without creative partnerships and providing some incentives, this is not going to happen."
Regardless of politics, Brown approaches her work with remarkable enthusiasm and passion. She has been a firm supporter in bettering the community and solving problems through the lens of a mother who genuinely cares about housing equity for all. "I want to say that while we have made a lot of progress over the last few hundred years for equality in the workplace, there is still a long way to go for everyone to be treated equally, not just women."
Photo courtesy of Hannah Gaither