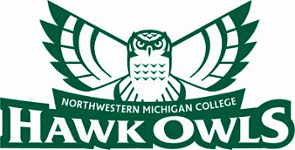 NORTHWESTERN MICHIGAN COLLEGE
WE HEW TO THE LINE;

LET THE CHIPS FALL WHERE THEY MAY.
Theater Classes Return to NMC
Sara Bagley
Staff Writer
After a long hiatus, NMC is offering theater classes. While this is exciting for many students who participated in drama and theater programs in high school (or wished that they had), theater welcomes anyone willing to step outside their comfort zone. Rachel Harrell, who has a master's degree in Fine Arts, is a local actor and director. She is an instructor for Drama Kids, an international drama enrichment program, through NMC's extended education program, and has happily taken on the challenge of re-instituting theater at NMC.
Currently, the college offers Basic Acting and Acting II. Basic Acting is the introduction course to the program, running this fall semester with ten students. Harrell says that the class will prepare students to transfer to any acting program at a college of their choice. "[There are] so many techniques and ways of thinking about theatre acting," she explained. "I want to give students a wide view." Acting II, which is available for the Spring 2023 semester, will serve as a continuation of Basic Acting and will offer students an acting degree. Students can gain "awareness of self, become more comfortable taking up space in the world being seen and heard, and gain a way to study people and motivations."
Brian Hurst, an NMC student seeking an associate degree in English, agreed. "It's good for me on a spiritual level," he said. "We've done a lot of work on vulnerability and awareness and understanding of self and others." Though he mentioned enjoying partaking in skits in high school, he never intended on chasing an acting career. When asked why he joined the class, Hurst said that he "had no clue what it was all about. It was like a little glimpse of a world I had no sense of understanding of. By studying characters and what's going on with them, you learn how to do it for yourself."
Experience in theater has the potential to benefit many careers, including social work, education, and therapy, according to Harrell. Theater classes can encourage team building and grow leadership skills and self-efficacy, which is something Harrell hopes her students leave with. "A lot of what we do is experiential; do it and reflect on it. It's an empowerment sort of thing," she said. Theater classes can also help students improve public speaking skills, interpersonal skills, and develop a greater appreciation for the arts according to Harrell.
Whether students are longtime lovers of drama, or they'd rather curl up in a hole than step on a stage, theater is a place for everyone. Hurst reveals that despite being interested in the class initially, he still was hesitant to sign up. A conversation with a mentor is what finally sealed the deal. He had shared with them his dilemma and they replied with some simple advice. "You'll either love it or hate it," they told him. After a few months of experiencing the community and playfulness in Basic Acting, he has one thing left to say: "I'm glad I love it."
Photo courtesy of Hannah Gaither