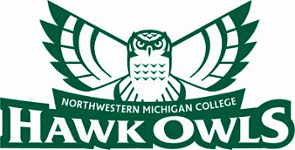 NORTHWESTERN MICHIGAN COLLEGE
WE HEW TO THE LINE;

LET THE CHIPS FALL WHERE THEY MAY.
Unexplained Photos Found in NMC Archives
Roy Stalin
Thought Leader
Behind the scenes, librarians at NMC's Library work hard to archive the photographic history of the college. Among the predictable photos of students hard at work and play, they have found some images that defy rational explanation. For the first time, these images are being revealed to the public. Make of them what you will.
Some lumbering activities in 1959 appear to have disturbed this gentle Sasquatch. While rarely found in the area now, at one time they had a large population in the area. This native species is so hard to find that some believe they are a myth.
Probably the most surprising image is the one we see here — a Dogman in full daylight in 1980, a few years before the height of Dogman-mania. The photo was given to the school by an anonymous donor and has been verified by top experts. These experts believe that this photo proves Dogmen are active throughout their 10-year cycle, while only experiencing a "frenzy" in years that end with a 7.
Unidentified Hovering Object
It appears that there were unexpected guests at the 1962 Osterlin Library dedication. While it is surprising that attendees did not notice the mysterious object at the time, leading experts believe that advanced technology explains the silent propulsion systems reported by attendees. They have also not ruled out the possibility of memory-wiping technology.
Time Portal or Soothsayer Art?
This mysterious 1967 art display contains one of the most mind-boggling images found so far. On the artwork in the center of the photo is the image of Josh Harker's Crania Geodesica: Palloncino Anatomica, created in 2019 and currently part of the Dennos's "BLOW UP II: Inflatable Contemporarty Art" installation. Staff are currently scouring campus storage for the prophetic canvas.
These students spreading sand at the Tech Center in the 1970s had no idea that there was a pod of "sea monsters" swimming along the horizon. While rumors have abounded for years, this photographic evidence may be a game-changer. Much like "Nessy," who inhabits Loch Ness, it is expected that what we see here is a pod of plesiosaurs, but no one has been able to capture a specimen for study.