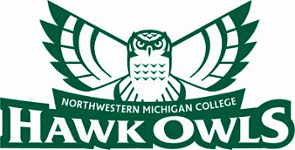 NORTHWESTERN MICHIGAN COLLEGE
WE HEW TO THE LINE;

LET THE CHIPS FALL WHERE THEY MAY.
On Saturday, August 13, 2022, I had the honor of attending one of the national Road to Healing events, orchestrated by the U. S. Department of the Interior at Pellston High School in Emmet County, located about two hours north of Traverse City. The U.S. Secretary of the Interior, Deb Haaland, and the Interior's Assistant Secretary for Indian Affairs, Bryan Newland, a Michigan native, are overseeing this year-long tour of engagements in which they are providing a platform for survivors of the federal Indian boarding schools to share their experiences and grievances.
"I think it's important for every American to know what happened," said Haaland, whose grandparents were taken from their homes and deposited at one boarding school. Haaland is, notably, the first Native American to serve as a cabinet secretary in any U.S. administration; she is a member of the Pueblo of Laguna and a 35th-generation New Mexican.
Between 1819 and 1969, our federal government operated and funded more than 400 Indian boarding schools. More than 50 schools have marked and unmarked burial sites containing the remains of children who succumbed while separated from their families.
Prior to attending the Road to Healing event, I read the entire 106-page Federal Indian Boarding School Initiative Investigative Report, which detailed the abduction, abuse, and forced assimilation of the indigenous peoples around North America, all in the name of "civilizing" them.
Government individuals hunted down children and young adults in the woods and came to their homes to take them away from their families. Once at the schools, children experienced mental, physical, emotional, and verbal abuse that carved deep scars and rifts of trauma into their lives, which would irrevocably impact their futures and the futures of those around them.
The idea that the indigenous peoples were bad, impure, and undisciplined heathens who needed to be broken and molded into the "right" kind of human is abhorrent. Yet, men admired and revered by the history books—George Washington, Benjamin Franklin, Thomas Jefferson—viewed the indigenous peoples as a blight to be dealt with; those in power needed to civilize them, and they did so in the most uncivilized ways.
The Initiative, issued in June 2021, with the investigative report completed in April 2022, is geared toward the consequences and intergenerational trauma caused by the federal Indian boarding schools, their policies, and their staff. The boarding schools strove for assimilation and dispossession—taking the cultures, languages, and voices away from the indigenous peoples—and the Initiative seeks to give them their voices back.
During this national tour, which will run through Spring 2023, victims, survivors, and descendants will receive the support they so long have deserved and the opportunity to tell their stories of what they experienced in the boarding schools—with the program technically ending in 1969 (yet one school in Michigan remained active until 1983), the survivors range in age from their 40s to 70s, but their children and grandchildren also suffered lasting generational effects.
At the Pellston event back in August, great care was taken to prepare the location—the opening ceremony included drumming and chanting; the school gymnasium was smudged and saged; a pipe ceremony occurred at sunrise. All of this was done to welcome the ancestors and to guard against the trauma. Tribes from Michigan, Wisconsin, Minnesota, and Iowa were present to support and speak up.
"Everyone has been sickened by the boarding school system—whether we attended or not—and all are healing," said Renee Diller of the Odawa Tribe, people of the Crooked Tree. "We will be healing for many years."
In her opening statement, Haaland said:
"I want you all to know that I'm with you on this journey. I will listen. I will grieve with you. As we mourn what we lost, please know that we still have much to gain."
After Haaland and Newland welcomed everyone, they opened the floor for people to speak. As Newland put it, "This is an opportunity for us at the Department of the Interior to hear from survivors and their descendants."
Michigan was home to five federal Indian boarding schools—Indian Industrial Boarding School in Mount Pleasant; Holy Name of Jesus Indian Mission in the Upper Peninsula's Baraga, also known as Chippewa Boarding and Day School; The Catholic Chippewa Boarding School in Schoolcraft County; Mackinac Mission School on Mackinac Island; and Harbor Springs' no-longer-standing Holy Childhood Boarding School of Emmet County.
Given that this event was held in Emmet County, it came as no surprise that the latter was the location that many spoke up against as the site of their abuse and trauma. Survivors listed rape, sodomy, broken bones, choking, ridicule, brainwashing, isolation and ostracization, beatings, and not being allowed to see their families as things they were subjected to while at Holy Childhood. Moreover, Halloween was an excuse for adults to terrorize the children; nuns told them that they were going to Hell. Children's spirits were broken, which manifested later in many adults' lives as they partook in harmful habits, abandoned and abused their own families, experienced homelessness, and more.
Members of our local tribes were taken, as well, and sometimes they were made to attend schools outside of Michigan.
"We have records of our people who were sent to out-of-state schools, too," David Arroyo, chairman of the Grand Traverse Band of Ottawa and Chippewa Indians, said after the Pellston event. "Just because you were born in this state doesn't mean that you were sent to a boarding school in this state."
Many survivors had never told their families or children what they had experienced—this day in a warm, public school gymnasium was the first time that many learned about what their family members had gone through.
Accountability is a big part of this initiative, as is reconciliation.
"Our next steps include identifying marked and unmarked graves and determining a total amount of federal spending and support for the Indian boarding school system," Newland explained.
But amidst all of the sorrow and suffering witnessed, strength still exists.
The Road to Healing event was a time of fellowship, connection, communing, old faces, new friends, long-lost relationships, healing, and support. It was beautiful to see reunions occur, tears of joy shed, laughter shared, and hands of support laid upon those speaking of their childhood trauma—things that no child should experience or be subjected to.
So, later this month, as I am sitting at the Thanksgiving table with my loved ones, I know that many of my family members will cite being thankful for our homes and shelters, our jobs, etc. I plan to tell the table that I recognize my privilege of not having familial trauma associated with the Indian boarding school system, and I will be grateful for the healing that is occurring within the tribal communities—grateful that I was able to witness the beginnings of the healing that is yet to come for our Native neighbors.
This story was originally published in the Glen Arbor Sun newspaper.