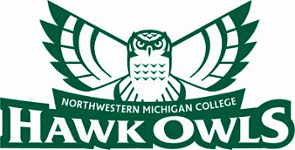 NORTHWESTERN MICHIGAN COLLEGE
WE HEW TO THE LINE;

LET THE CHIPS FALL WHERE THEY MAY.
Renew Your Wardrobe With Spring Inspired Contrasts
Gabbi Chavarria
Staff Writer
"Short Skirt/Long Jacket" by Cake has had me in a chokehold since it first graced my ears way back in the spring of 2007. It's both a great song and an infallible formula for a freaking cute outfit. I always hear it playing in my head as soon as the sun starts to come out of hiding. Spring is rainy and wet, sunny and bright and, in my humble opinion, the cutest time of the year. With that in mind, I knew I wanted to style a trench coat/short skirt combo for the season. Cherryland Humane Society Thrift had everything I needed to create a perfect springtime outfit.
It started with the trench coat. I firmly believe that everyone should have a functional and fashionable raincoat, and thrift stores are the perfect place to find really nice ones for not a lot of cash. A trench coat is the perfect wardrobe staple and I was able to find one in an incredibly versatile shade of army green that can be worn in rain, sleet, sun, or snow.
With the long jacket portion of my mission sorted, I went to find a short skirt. Micro skirts are having a moment this runway season! They've appeared in Fashion Week shows from London to New York by designers like Off-White, Roberto Cavalli, Balmain, Miu Miu, and Chanel. While I am a thrifty gal at heart, I draw a lot of inspiration from high fashion, and I knew I wanted a skirt that would make the pages of Vogue proud. I lucked out when I found a 100% silk wrap skirt. It's short, bold in color, and it just so happened to have a little floral pattern. I don't care what anyone says…florals are perfect for spring.
Now that I had the two main parts of my outfit worked out, I moved onto the top. I was able to find a top with the most perfect shade of green tha t both contrasted with the skirt and matched the coat. The best part about the shirt? It's backless, meaning it can follow you, bright green and gleaming, to any summer party. Layered under the trench, it's the perfect pop of color with a hidden playful side.
Accessories are my favorite part of outfit building. The Cherryland Humane Society Thrift did not disappoint with their selection. I immediately was drawn to the pet carrying backpacks they had, and found one with straps that were the perfect shade of red to match the skirt. The backpacks are made to carry your cat or small dog with you around town. They're equipped with breathing holes, and a big plastic screen so your furry friend can see out. Of course, they can be used as regular backpacks too, and the clear shell gives off an early 2000's vibe. Shoes were next, and it wasn't long before I spotted the perfect pair of green rubber rain boots. Boots and a skirt are another classic combination that automatically elevates any outfit, and the rubber of the boots made them playful enough to be paired with the backpack.
All told, the outfit with the backpack included cost $45. A full price trench coat of the same style and proportions from Forever 21 costs $64.99 according to their website. For just a little over half the cost of one coat at a fast fashion retailer, a whole outfit is available at the thrift store in town.
All proceeds from the Cherryland Humane Society Thrift go to benefit the Cherryland Humane Society and their furry friends looking for their forever homes. Cherryland Thrift takes donations Thursday - Saturday from 10 a.m. to 4 p.m.