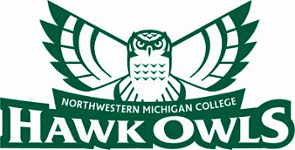 NORTHWESTERN MICHIGAN COLLEGE
WE HEW TO THE LINE;

LET THE CHIPS FALL WHERE THEY MAY.
Health Care Forum The event, offered by Grand Valley State University and NMC, will focus on adolescent mental health in Northern Michigan. Panelists will speak about the importance of supporting youth and understanding the mental health challenges they face. The forum takes place on Oct. 17 from 7:30 - 9:30 a.m. and is free for all to attend. Registration information can be found at www. gvsu.edu/hfnorthernmich.
NMC Jazz Lab Band will perform a concert at the Grand Traverse Circuit on Oct. 23 at 3 p.m. The Jeff Haas Trio and Laurie Sears will perform for an afternoon of swinging jazz. There will be a selection of food from Edson Farms and wines from Chateau Chantal. Donations of $5 for students and $20 for others are encouraged.
International Affairs Forum Debates Immigration On Oct. 20, David Aguilar, the former acting commissioner of U.S. Customs and Border Protection will join Theresa Cardinal Brown, the managing director of the Immigration and Cross-Border Policy at the Bipartisan Policy Center, in leading an immigration debate in the Milliken Auditorium. It can be attended in person for $15 at the door (free for students, educators, and members of IAF), or via livestream. To register for the event or to purchase tickets, visit www.tciaf.com.
​
Trunk or Treat fun! Decorate the car, get into costume, and hand out candy in the Cherry Lot across from the Innovation Center on Oct. 26 from 5-7 p.m. Prizes will be given for best decorations! Sign up to dress up your trunk and hand out candy at blogs.nmc.edu/?p=104260.