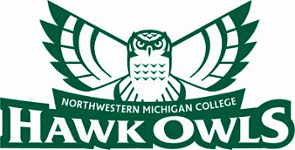 NORTHWESTERN MICHIGAN COLLEGE
WE HEW TO THE LINE;

LET THE CHIPS FALL WHERE THEY MAY.
NMC Theatre Kids Hit the Big Time
Sara Bagley
Staff Writer
Following a smash-hit musical comedy performance at the Night of Stars: An Evening with Hawk Owls' Finest talent show last Thursday night, JoJo and Joe of NMC's Acting II class found their big break. Joe, a stand-up comedy genius, partnered with singer and songwriter JoJo to put together a masterpiece of a performance.
JoJo started the act and easily won the crowd over, wowing everyone with a rendition of Bob Dylan's "Mama, You Been On My Mind." However, what happened next was not what you'd expect. At the beginning of JoJo's next song, the audience watched as Joe crept out onstage, hiding ever-so-carefully outside JoJo's line of sight. He entertained show-goers with his silly dance moves, freezing every time JoJo would look over. It truly was a fantastic act to follow his stand-up comedy set from earlier in the night.
Little did they know, this comedic performance would change their lives forever. Famous Britain's Got Talent celebrity judge Simon Cowell was sitting in the audience. Despite his notorious critical attitude, many of the students absolutely knocked his socks off; most of all, JoJo and Joe. Right after the show ended, he approached the pair, proposing an opportunity unlike any other in music history. In this deal, JoJo would be given the opportunity to tour America as a part of The Beatles tribute band called An Easy Night's Day, after one of their 1960's albums. Joe would tour alongside him, opening each show with rambunctious audience laughter while performing with comedy greats like Woody Allen and Larry the Cable Guy.
Cowell has not confirmed how or why he made it to the show, but White Pine Pickle staff speculates that he got stuck in Traverse City during transit back to Britain due to the harsh mid-March blizzards.
Regardless, JoJo and Joe are thrilled by this opportunity of a lifetime. JoJo, a Syracuse University graduate with a minor history of theft, found his way into the music scene following some time spent in Scotland Yard. He says that inspiration for much of his music comes from his great Declaration of Independence heist at age 10, influenced by a viewing of National Treasure. JoJo claims that his musical journey started off with a makeshift guitar composed of an old wash basin and used dental floss. He is looking forward greatly to this new chapter in his life, as his greatest regret was not being born at the right time and place to join the original Beatles group back in 1960.
Joe is equally as excited, explaining that his Basic Acting class (also taken at NMC!) sparked his love for performing, and says that he wishes to incorporate some of his theatre work into his future comedy performances. Some of his previous favorite roles have included Arnold, from Shel Silverstein's scene entitled "No Skronking," and an unnamed man who preaches about the beauty of being single and enjoys dancing with unicorns.
Cowell has denied providing any comments upon request. We wish the best of luck to JoJo and Jo as they move forward to experience their time on the big stage.