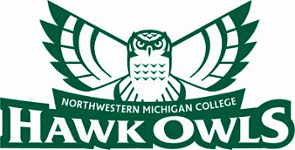 NORTHWESTERN MICHIGAN COLLEGE
WE HEW TO THE LINE;

LET THE CHIPS FALL WHERE THEY MAY.
The History of Native American Heritage Month
Indigenous dancers celebrate at a traditional pow-wow on NMC's campus, 2019
Ally Licht
Staff Writer
November is national Native American Heritage Month. People across the United States celebrate the achievements and cultures of Native peoples as well as reflect on the somber history of the colonization of Native peoples by white settlers.
The roots of Native American Heritage Month come from Dr. Arthur C. Parker, a Seneca Indian who convinced the Boy Scouts of America to reserve a day to celebrate the "First Americans". This led to Reverend Sherman Coolidge, an Arapahoe and president of the annual Congress of the American Indian Association, to command the United States to also observe such a day. Coolidge issued a proclamation on Sept. 28, 1915, which declared the second Saturday of each May as an American Indian Day. In 1916, the first American Indian Day in a state was declared by the governor of New York. Then in 1986, President Reagan established "American Indian week" which correlated with Thanksgiving. Since 1995, each president has announced that November would be a whole month dedicated to Indigenous peoples.
The National Congress of American Indians states that there are 574 federally recognized "Indian Nations" (also called tribes, pueblos, communities and native villages) in the United States. 229 of these nations are in Alaska and the remaining 345 are spread across 35 other states. Some tribes are unrecognized on the federal level but have state recognition. These federally unrecognized tribes find difficulty in obtaining federal funding and treaty protections.
There are 12 federally recognized tribes in Michigan. Locally, the closest federally recognized tribe is the Grand Traverse Bay Band of Ottawa and Chippewa Indians in Suttons Bay. This Band is the people of the Three Fires Confederacy, the Odawa (Ottawa), the Ojibwa (Chippewa), and Bodowadomi (Pottawatomi) people. Historically, they traded with the French and the English people who came to their land. As a tribe they have suffered many hardships, including having to cede their land in Michigan to the United States Government and treaties they had made with the federal government were broken, leaving them without federal or state assistance. Since then, they have been re-recognized by the federal government and have grown to have thriving tribal economies and have created many assistance programs for their members. There is also the Little Traverse Bay Bands of Odawa Indians located in Harbor Springs.
According to the Grand Traverse Band (GTB) Newspaper, a publication by the Grand Traverse Bay Band of Ottawa and Chippewa Indians, the GTB heritage library is hosting multiple events to celebrate Native American Heritage month, including storytimes and history teachings as well as interactive events such as Gooni-Ginebek (Snow Snake) workshops. This event will be held November 20th from 12-2pm where the public can come make and learn about the history of Snow Snakes.
For Native American heritage month, the Traverse City Record Eagle recognized Anishinaabek neighbors of the region. One story about Krystina John, a former NMC student and Anishinaabe member, stated that "if there's one thing she would like her non-Native American neighbors to understand, it is the importance of spreading awareness of Missing and Murdered Indigenous Women, the thousands of unmarked graves of boarding school children, and cultural appropriation." If you are interested in learning more, NMC offers courses in Native American history and Elementary Anishinaabemowin.