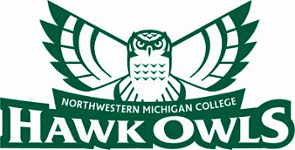 NORTHWESTERN MICHIGAN COLLEGE
WE HEW TO THE LINE;

LET THE CHIPS FALL WHERE THEY MAY.
Bottle Drive Raises Funds For GLMA Graduate
Richard ringing off watch from GLMA in 2014.
Richard shaking Jerry Achenbach's hand at his graduation in 2014.
Aidan Pool
Staff Writer
Richard Gray passed away on January 17, 2022, following a tragic accident off the coast of Gary, Indiana. The loss rocked the maritime industry. Gray is mourned by many, including his wife and three kids.
Gray, a 2014 Great Lakes Maritime Academy (GLMA) graduate, was described by admissions specialist, Judy Druskovich, as "always happy and willing to volunteer to assist the academy, other cadets, and the staff in various activities." Gray continued to make a positive impact on other cadets, even after his graduation. "He eventually worked as an adjunct instructor and was very well liked by cadets."
"Richard was a cadet when I arrived," said the Admiral of Great Lakes Maritime Academy, Jerry Achenbach. "He not only earned our bachelor's degree, but he also earned an additional bachelor's degree from Ferris State University via the College's University Center." He added that Richard was involved in the community. He was active in many maritime related groups such as GLMA Alumni Association, the Knights of Columbus, and the International Ship Masters' Association.
Beginning in late February and ending on March 25, a bottle drive was held to raise money and awareness for Gray and his family. President of the student group Women on the Water, Brittni Moore, explained how the drive came to be. "We were initially running a bottle drive for Women on the Water through the fall semester last year, primarily to raise money to attend the Women's International Shipping and Trading Association Conference in Chicago this spring."
With everything in place, it was just a matter of changing what the drive was for. "We put up signs, put notices in the Plan of the Week for the academy, reached out to the NMC PR (Public Relations) department to help spread the word on Main campus, and Ms. Druskovich reached out to the GLMA alumni." Moore praised first-year deck cadet, Maddi Miller, for handling, organizing, and volunteering to run the drive and later praised all the volunteers who helped along the way.
The drive reached those further out than expected, according to Druskovich, "We had one alum drive from Cadillac to donate." Moore even received emails from supporters of the academy near the Soo Locks asking how they could help.
First year deck cadet Jon Brausch was a strong supporter of the bottle drive. He pushed other students to be a part of the drive and spread its cause. "I have always wanted to work on the lakes my whole life, and I have known that the job can get a little dangerous, but I never could've thought a freak accident could happen like that," he said. "I know I would want some support for my loved ones if they were just left without me."
Moore shared a similar sentiment, "He should never have been taken, and I think his loss will be felt on the lakes and at our academy forever."
The original GoFundMe, started by GLMA alumnus Ryan Miller, has since been shut down. The final tally ended at $96,900. The bottle drive at NMC raised $400 in a month and a half. The proceeds of the bottle drive will be sent to a fund set up by American Steamship Company, Gray's employer, to provide for his family. Anyone who wants to can donate to the fund by sending them a check payable to the Richard Gray Children's Trust and mailing donations to:
Honor Bank
Attn: Jess Ashmore
430 S. Union Street
Traverse City, MI 49684
The community coming together for someone that some did not know is something that has brought a small amount of positivity to a very tragic situation.