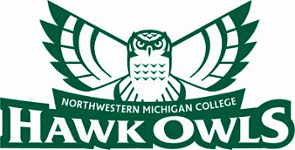 NORTHWESTERN MICHIGAN COLLEGE
WE HEW TO THE LINE;

LET THE CHIPS FALL WHERE THEY MAY.
Spring Break: For Study or Stupor?
Sara Bagley
Staff Writer
Spring break is a time for many students to take off for vacations, catch up on sleep or work, or simply relax and spend time with friends and family. Homework assigned over break, however, can impact students' plans for fun.
While every professor is different, some, like Mary McKeon-Jacob, an American Sign Language (ASL) instructor at NMC, find assignments necessary to keep the class and content on track. Since ASL is both an asynchronous online course and a late start class, McKeon-Jacob and her students have less time to accomplish the course content.
"We already lose a couple of weeks, and I also want students to 'keep their head in the game' over break," she said. "As a language class that leads to language acquisition, a steady stream of the language is necessary, so I provide a source for that over the break."
The work she assigns over the break is intentionally lighter than the normal coursework assigned throughout the semester, and is meant to only take students an hour or two over the course of the week, versus the normal workload of around four or five hours per week.
"I view spring break as a time of rest, or vacation, or family visits. I do not give extra work, but I do give 'light' work." McKeon-Jacob said. She aims to ensure students get time to enjoy themselves and relax on break while still practicing the language.
"If they need to wait until the day before break ends to do the assignment, that is fine! I've had a few students contact me to ask if they can have a few more days to do it, as they are traveling, for example. No problem!"
Rachael Harrell, who teaches Basic Acting and Acting II at NMC, also stressed that spring break is for rest and enjoyment. "My hope is that it is a time for rest, self-care, and maybe some fun or travel. It also allows time for catching up if a student got behind for any number of reasons during the semester," she said.
Harrell, who is currently pursuing a Master of Social Work (MSW) through Michigan State University (MSU), understands the challenges of balancing working full time with schoolwork. "It is a part-time program, but the load and homework are significant," she said. As a student, Harrell took advantage of MSU's spring break.
"I need [the] 'break' in order to stay on top of my workload. So, while I promote my students taking a break, I also think that having discipline is important. It depends on your personality and ways of coping with stress, but I don't think that it is a good strategy to come back from spring break feeling behind in a way that won't take less than a week to catch up."
While Harrell encourages her students to take advantage of the time off and get some rest and fun in, she acknowledges that her students likely have responsibilities to attend to over the break. "Spring break is almost always a time when we are working on a play or a project that will be performed later in the semester," she said. She hopes her students use their time to continue to memorize lines and stage direction to continue the momentum the class has built.
Brian Hurst, an English major at NMC, is looking at spring break with a heavier workload on his plate.
"I'm bogged down by upcoming large projects in every class, as well as a few smaller assignments that are past due," he said.
Hurst, like many students, was hoping to use spring break as a time to catch up after a grueling first half of the semester."This is the time of year when things tend to pile up on me. You have one bad week mid-semester, and the whole next month just feels like you're treading water."
His experience is not uncommon among college students. As the end of the academic year and finals loom in front of summer, students are ramping up for even more work at the end of the semester. Course workloads often increase and decrease around the same times, making it more difficult to stay on top of everything.
"I don't agree with homework being assigned over spring break," Hurst said. "It should be a time to catch up and reset yourself to finish the semester strong. It's also really important to be able to just let go for a few days and focus on your own life."
Other students, such as Taylor Silvers, might assign homework as a professor, but nothing too straining; perhaps a film and reflection, or something similar. Silvers is not facing much homework from her four classes, but can see how homework over the break can be beneficial.
"If the homework is vital to your career, then yeah, it's necessary if you really want to achieve your goal," Silvers said. Overall, she too thinks that spring break is much-needed time off. "I think the purpose of spring break is to relax, and have a time to unwind."