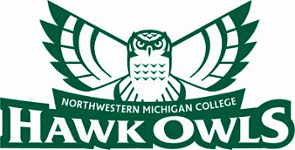 NORTHWESTERN MICHIGAN COLLEGE
WE HEW TO THE LINE;

LET THE CHIPS FALL WHERE THEY MAY.
Alumni Spotlight: Max Anderson
By Deanna Luton
Staff Writer
Max Anderson chose NMC because it was close to home and allowed him to complete General Education requirements for less money than a university. After his studies continued at Western Michigan University, Anderson realized NMC's facilities and staff were top notch for a community college.
NMC helped Anderson, "By further teaching me discipline and how things would work at a larger university. I feel that it prepared me very well for the next step of my educational journey." He continued, "I transferred down to Western Michigan University (WMU). I was going for my bachelors, so my classes at NMC were designed to all transfer to WMU and support that end."
Later, though, through degree audits, Anderson was notified that he did complete his degree. Anderson reflected, "My favorite class was Strength of Materials and in general, the engineering curriculum. Jim Coughlin was an amazing instructor who made the classes fun but challenging." As an engineering major, he found the staff members at NMC made his studies a wonderful experience. Professors Stephen Drake and Mary Jo Elliot were also among his favorites.
As advice to future NMC students, Anderson encourages: "Use NMC as the invaluable resource that it is. Use it to not only learn, but to prepare you for the next step of your journey."
Anderson affirmed, "NMC has world class instructors and staff and shouldn't be viewed as less than anything you would receive at a larger institution. The only difference between NMC and the big universities is their donor base (money) and the research they do. But even NMC is on the cutting edge of a few types of research. There is an amazing breadth of options for classes and chances are, if you want to learn it, NMC offers it!"
As a commuter student, Anderson found campus as an open, welcoming and warm place. "Staff and faculty are friendly and helpful. There were all kinds of options to engage in different activities on campus, even for those of us who didn't live on campus."
After his time at NMC, Anderson has continued to build up a successful career from his educational foundation at the community college. "I went on to earn my bachelor's degree from WMU and have continued to learn more through training and education through my career as a commercial lender with Honor Bank."
Anderson works for Honor Bank as Assistant Vice President of Commercial Lending. "I love it! The career allows me to build relationships in our region with business owners and be on the front lines of helping our area move forward!"
​
Since his time at NMC, Anderson's world of work has changed significantly. "When I was attending NMC, I didn't yet have a career, just a job." He reflects, "After NMC, in part due to some of the relationships I was able to build during my time there, I was more easily able to find employment and eventually get into banking and to where I am now. I am incredibly grateful for my time at NMC."
"I would highly recommend that anyone who wants to save money and still get an incredible education, do the same!"
He found his career pathway through sales experience. Working for Schwann's Home Service, he had a regular stop at a Chase Bank branch. There, the banker and manager insisted he had skills that would make him an ideal candidate for banking.
"They eventually wore me down and the rest is history. If there is anything I've learned during my life and career, it's that relationships are everything." Anderson expanded, "Whether it's your professor at NMC, or your customer in your sales job, be inquisitive and kind with everyone because they may have the opportunity to help you someday. And just as importantly, you may have the opportunity to help them someday too!"