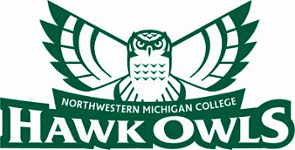 NORTHWESTERN MICHIGAN COLLEGE
WE HEW TO THE LINE;

LET THE CHIPS FALL WHERE THEY MAY.
Community Officer Position Helps Combat Homelessness
Sara Bagley
Staff Writer
The Traverse City Police Department (TCPD) created two new positions last October with funds from the federal Comprehensive Opioid, Stimulant and Substance Abuse Program (COSSAP) grant. Officer Justin Nowland, who has served with TCPD for the past five years, was named the North Boardman community officer and local social worker Jennifer Campbell joined the department as Nowland's partner.
The goal of these new positions was to "reduce calls for law enforcement related to vulnerable positions, and there's an aspect of treatment that's added," Campbell explained. "We're helping people not in the moment, but the long-term follow up of how to get them out of the cycle." The position focuses on helping with homelessness and the unhoused population, but the issue is often compounded with substance abuse and addiction.
The new positions use a prevention-based approach, much like other specialty teams the TCPD has, like the crisis intervention team (CIT), introduced in 2018, that focuses on mental health crises.
The initial process following an emergency call is still the same, but it has added one more step—treatment. "Our response doesn't change," Officer Nowland said. "We want to address and try to find solutions to long-term problems." After the initial TCPD response, Campbell tries to meet with the person in crisis in order to figure out what resources they need, both in an effort to provide help and stability to the person and to reduce the workload and resources needed from first responders.
Whenever new initiatives are launched, it can be difficult to measure how the public may react. "Everyone has opinions," Officer Nowland said. "I focus less on what people think, and more on helping people that I can."
Campbell has witnessed pushback on her type of position as well. The National Association of Social Workers (NASW) has openly expressed disagreement with having social workers embedded in law enforcement agencies, noting the differences in ethics and public service roles between police and social workers.
"It's very polarized," Campbell said. "I think if you talk with the people we've helped, they have positive responses."
In the short time that these positions have been active, it's difficult to measure the results. "I can't get out a line graph and show you depreciation of calls," Officer Nowland said. "Everything is still new. Hopefully, we can eventually show that data." Despite that, he would still say that these efforts have been worth it. "Have we identified and been able to help people? Yes. If you help one person, that's a success to me."
As a citizen born and raised in Traverse City, Campbell noted the importance of creating a culture of community support, saying that there have been people who have reached out directly to Officer Nowland to find out how to get into treatment.
"There's this trust with communities that are hard to reach," Campbell said. "The culture is changing. It's a beautiful thing."
Changes are not just being made in the Traverse City area, but also in the training of future police officers at NMC. Gail Kurowski, director of NMC's Police Academy noted that an "increase in training hours for responding to persons with behavioral issues was approved." The increase of training hours in question is dedicated to Behavioral Health Emergency Partnership Training, or BHEP, and was approved on Feb. 8. The Michigan Commission on Law Enforcement Standards (MCOLES) also released a training module specifically addressing situations that involve mental and developmental disorders.
According to the module detail document, "training should target the officer's ability to observe, and subsequently interpret behavioral cues for an effective response and intervention." The module is taught by instructors that fit within a strict criteria; instructors must either have had experience and expertise in law enforcement responses to those with mental health disorders or be practitioners and clinicians with backgrounds in mental health services. Director Kurowski shares that the increase in training hours "will take effect this fall when we begin our next academy session."