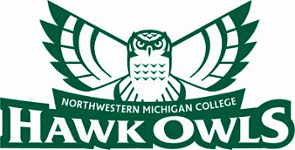 NORTHWESTERN MICHIGAN COLLEGE
WE HEW TO THE LINE;

LET THE CHIPS FALL WHERE THEY MAY.
As the snow melts, you might see these small saplings around main campus pines. These White Pines were planted in August 2020 by local community members to commemorate and celebrate the late former Michigan Governor William G. Milliken and his connection to NMC.
Dennos Spotlight:
Congrats, Hawk Owl Graduates!
On behalf of all of us at the Dennos Museum Center, congratulations to everyone who persevered through yet another academic year full of ups and downs, surprises and curveballs. And in particular, we wish the class of 2022 the very best in the months and years ahead. Congratulations on all that you have accomplished during your time at NMC.

Please know that you are always welcome at the Dennos Museum Center. We hope you will stop by and see some of our terrific exhibitions before summer hits and the tourist season arrives. Wherever your path may take you, we wish you the very best for you and your family.

Sincerely,
Craig Hadley
Executive Director and Chief Curator