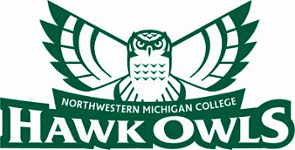 NORTHWESTERN MICHIGAN COLLEGE
WE HEW TO THE LINE;

LET THE CHIPS FALL WHERE THEY MAY.
Dark Sidewalks Shed Light On Campus Safety
Kyle Hoffman
Staff Writer
North Hall resident Rachel Colby felt unsafe as she biked through concerningly-dark patches of Northwestern Michigan College's campus sidewalk en route to a restaurant near campus. The 21-year-old student "ambassador" asserted herself, as she has shown the ability to do throughout her first semester at NMC, by meeting with staff earlier this fall in an attempt to solve the problem. It's not the only campus safety concern that NMC faces, and it may not be the last problem that Colby will tackle. Her initiative begs the question: Does NMC provide an environment that ensures students consistently feel safe on campus?
Many students may feel unsafe walking through the various unlit or poorly-lit stretches of sidewalk around campus. The walk along the volleyball and basketball courts between East and North Hall is one of the darkest stretches.
Colby's meeting with faculty worked. NMC is working on installing five additional light posts at that area by the end of the calendar year. That is just one of the many steps she has taken to make NMC a safer and more comfortable environment—and she plans to take more.
Colby is passionate about improving the sense of safety for herself and others, as a woman but also as a rape survivor. "I was very vocal, I wasn't going to be quiet about it," she said. Her experiences motivated her to help others that have to go through what she did. "[My previous college] has an amazing Title IX program," she said. "They ended up helping me so much and it was a very simple process for me."
Putting herself in the public eye and being vocal about her assault has given Colby confidence that advocacy works. "I ended up having a girl tell me 'I saw how you got justice for what happened to you and I'm going to do the same thing and go forward with my case,' and that was a big moment for me. Not being quiet about this makes a difference."
Colby has seized every opportunity to make a difference. She recently joined the Campus SaVE Advisory Board, a group of students and faculty that address safety issues on campus. She is also working to revive the NMC Voices student group. The group is an advocacy and support group focusing on sexual assault awareness and creating a safe space for students of all genders.
After being inactive for a few years, the group once again meets on Tuesdays to discuss the planning of events that focus on sexual assault and prevention. They are looking at brainstorming the best ways to raise money and awareness for organizations like the Rape, Abuse & Incest National Network (RAINN), the nation's largest anti-sexual violence organization, and and others like it. The group is also discussing having separate meetings focusing more exclusively on support for survivors of sexual assault.
It's important to remember that campus safety applies to more than the main campus. NMC offers virtually the same safety resources at all campuses, but safety at The Great Lakes Maritime Academy has been a specific note of emphasis.
An October letter from the U.S Maritime Administration condemned a recently reported sexual assault of a cadet on her year-long sea assignment. The Great Lakes Maritime Academy is one of only six in the nation, so although the specific reported incident did not happen at NMC, it is a problem that had to be addressed.
"I want you to know we stand with the survivors of sexual assault and harassment and condemn the actions reported in this incident," NMC President Nick Nissley's October news release read in response to the incident.
NMC has shown the ability to react properly to safety issues, but it's important to be proactive for such an ever-changing problem.
NMC Safety Resources Have Room For Improvement
On a technical level, NMC seems to have policies and tools that should make students feel secure. The college has emergency phones in most parking lots and throughout each campus. There is an optional emergency alert system that uses SMS text messaging. Campus Safety offers a 24/7 escort service that can be used by calling (231) 995-1111 and a security officer or student patroller will escort you where you need to go.
NMC enforces Title IX, which includes the Campus Sexual Violence Elimination (Campus SaVE) Act, which reauthorizes the Violence Against Women Act (VAWA) and amends The Clery Act. All of this means that NMC has strict policies and procedures in place meant to protect students from sexual misconduct.
The college provides the means for easy reporting of misconduct, attempts to ensure the protection and confidentiality of survivors and reporters, and makes sexual crimes transparent on campus. These protections apply to rape, sexual assault, sexual harassment, stalking, domestic/dating violence, any unwanted or unconsented sexual contact, and more.
However, not all of this information and access to these resources are easy to find. Many places on NMC's website show off the 24/7 escort service, but one must navigate multiple layers of links to learn how to use it—if one can find it at all.
On the "Ask Us About" page for date rape and sexual assault, two links to outside nonprofits are included but there is no mention of support resources on campus. There is only a link to contact Jim White, Assistant Director of Campus Safety & Security. NMC offers sources of support and counseling, but the information is tucked away in the bottom corner of NMC's campus safety homepage, and many links that should have such information do not. The resources don't provide the help that they should if it takes a sit-down investigation to find them.
According to the annual Campus Security and Safety Report and Annual Fire Safety Report, from 2018-2020 there were 2 reported rapes, 1 burglary, 2 domestic violence cases, and 3 stalking offenses. There were no reported murders, statutory rapes, robberies, aggravated assaults, or hate crimes.
A similar report from Alpena Community College shows that they had no murders, rapes, burglaries, assaults, robberies, or domestic violence charges, and only 1 stalking offense from 2015-2017.
Muskegon Community College reported no murders, rapes, burglaries, aggravated assaults, robberies, and domestic violence cases, but reported 2 stalking offenses and 2 sexual assaults from 2018-2020.
These reports aren't direct comparisons though. Alpena Community College and Muskegon Community College have about 1500 and 4500 students, respectively, compared to the roughly 3600 students at NMC. While there is a slight trend, the sample sizes and low cases don't warrant a definitive conclusion.
While it is important to examine the statistics and resources in order to define how safe campus is, it is also important to consider how safe campus feels. By listening to the students and assault survivors brave enough to use their voice, NMC can help ensure a positive learning environment for all.
Students, survivors, and allies interested in joining the NMC Voices student group can email the faculty advisor Brittany Hanbury at bhanbury@nmc.edu, or Rachel Colby at colby10@mail.nmc.edu.