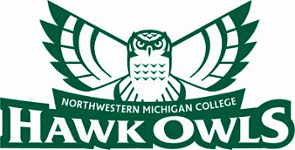 NORTHWESTERN MICHIGAN COLLEGE
WE HEW TO THE LINE;

LET THE CHIPS FALL WHERE THEY MAY.
Nick Nissley Runs for Governer
Sara Bagley
Staff Writer
Northwestern Michigan College's President Nick Nissley has announced his next career goal: to serve as governor of Michigan.
The eleventh president of NMC, Nissley has a list of accomplishments under his belt, from serving as executive director at both Cincinnati's School for Creative and Performing Arts and the Banff Centre for Arts and Creativity in Canada to being the Dean of the Business Division at Cincinnati State Technical and Community College. Even in his time at NMC, he has been a proponent of several fantastic programs, including NMC Next and initiatives focused on creating a better educational environment and student/faculty community at NMC.
Despite the fact that he has no political experience in his current resume, he remains unafraid; after all, how different can running a state be versus running a community college in rural Northern Michigan? He has not yet announced which party he will affiliate with, but there are strong suspicions that he will form an independent party entitled the Hawk-Owl party, which favors right-to-life for squirrels residing in Michigan and additional funding for professional sports at community college.
Despite gubernatorial elections taking place just last November, he is determined to get his foot in the door early to be the successor of current Michigan governor Gretchen Whitmer. Incumbent Governor Whitmer will no longer be able to run for re-election following this term in office, which opens the door for new, up-and-coming candidates. He believes that there is no time to start like the present, which is why he plans to begin campaigning soon at the local level, as local as NMC.
Objectively, he's picked the perfect place to start. Much of the student population is 18-years-old or over, and therefore typically able to vote in local/state elections. On top of that, he's quite a popular face on campus, and has a history of positive connections with NMC's community built on events like Pancakes with the President. According to his campaign advisor and running partner, Todd Ally-Dude, he's made quite a positive impact on the campus during his three years serving as college president.
There is little information to gauge how the public may take this surprising news, but the hope is for a positive response.
With this development, of course, a question has been raised for many NMC students and staff: who will succeed President Nick Nissley?
Thus far, no official candidate has been presented, but there is little pressure given the time frame between now and the next election. We wish President Nissley the best of luck on his political journey!