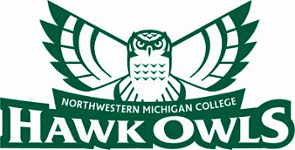 NORTHWESTERN MICHIGAN COLLEGE
WE HEW TO THE LINE;

LET THE CHIPS FALL WHERE THEY MAY.
Aidan Pool
Staff Writer
On March 23, basketball icon Lebron James announced that he will begin to attend classes at NMC.
After a game against the Detroit Pistons, James heard mention of a small two year college in the state. As most fans know, James did not attend college as he entered the draft before the NBA implemented their "one-and-done" rule in an attempt to get athletes to attend college.
When asked why he wanted to attend college at all when he has a net worth of a small landlocked country, James responded, "It's about setting an example for my kids. They both have the talent to play at a similar level as myself, but I do want them to also get a good education. I feel like the best way to help that is to get a degree myself." James's eldest son, LeBron, Jr., (known as Bronny) is currently in his senior year of high school. While it is widely believed that he will be a one and done college athlete to perhaps play with his dad, James is hoping that his son will choose to go to school, maybe at NMC.
"Professional basketball is a great way to make lots of money, it doesn't take a pair of glasses or eye surgery to see that. But injuries happen, and if they do I want them to have an education to be able to support themselves," said James.
As for NMC itself, James sounds excited to be a Hawk Owl. "I plan on taking a full course load. I want to soak up as much of the small town college experience as possible," he said. He will begin attending classes in the fall 2023 semester, and plans on taking sociology, math, and history classes. When asked about potentially coaching NMC's new basketball team, which was announced the same day, James said "Don't expect me to bring a basketball program to life, I think my college eligibility is unfortunately done. I'm just here to learn, but I've heard that there are some interesting programs here, I definitely plan to check out the planes, boats, and the observatory."
James sticks out like a sore thumb when he is on campus, it's not everyday that a tight knit community like Traverse City sees a man of six feet and eight inches just walking through Scholars Hall. While James is one of the most well known people in the world, some students plead ignorance about his career. "DeBron Lames? Never heard of him," said Stephanie Kurry, a second-year student at NMC.
With one of the most famous athletes in the world now attending NMC, the question lingers… could it become a hotbed for other big name athletes? The Red Wings hold training camp in Traverse City. Maybe we'll see the likes of players like Dylan Larkin, Adam Erne, or Filip Zadina apply next.