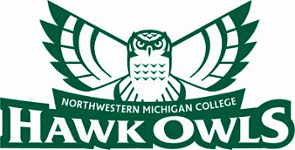 NORTHWESTERN MICHIGAN COLLEGE
WE HEW TO THE LINE;

LET THE CHIPS FALL WHERE THEY MAY.
Photo courtesy of Ann Swaney / NMC Archives
Campus Day, 1959

The first Campus Day was held in 1955. The annual event, typically held in late autumn until 1965 when it became a spring event, brought students and faculty together to improve the campus grounds. NMC's main campus was located on acres of heavily wooded area filled with underbrush, tree stumps, branches, and rotted logs that needed to be removed for development. A government surplus bulldozer, named Ezmeralda, obtained in 1957 would have students shouting "Ezzie does it!" whenever she tackled a big job during this 1959 Campus Day.