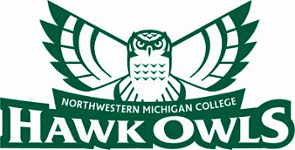 NORTHWESTERN MICHIGAN COLLEGE
WE HEW TO THE LINE;

LET THE CHIPS FALL WHERE THEY MAY.
Disability Support on Campus: A Student's Perspective
Sara Bagley
Staff Writer
Northwestern Michigan College has a long list of resources designed to maximize student success. NMC's Disability Support services are fundamental to the success of students that find they need accommodations to succeed in college. While disability support is most commonly aligned with learning disabilities relating to reading, writing, or math, that's not the only type of support that's offered by the program.
Leanne Baumeler, the Coordinator of Disability Support and Student Conduct Specialist at NMC, stressed that conditions outside of just formal learning disabilities can affect learning. "A student with a closed head injury or mental health condition, for example, can experience barriers to their learning that an accommodation plan (along with other interventions) could address," Baumeler said. "I work with any student who has been diagnosed with something that is significantly impacting one or more life major activity."
Baumeler has worked with students dealing with ADHD, depression, personality disorders, physical disabilities, autism spectrum disorder (ASD). blindness or low vision, and hearing loss.
Gaining access to the support requires legwork on the students end. "It is important that the student can submit documentation or proof of the condition," Baumeler said. "There are guidelines on what the documentation needs to include which I cover with the student when we meet."
In order to provide services to students, they must self-identify to her office and meet certain criteria, like providing documented proof of a condition, before they can move forward with an accommodation plan.
"Accommodations are determined by reviewing the documentation of the disability and interviewing the student about how that diagnosis is impacting their access to NMC's programs and services," Baumeler said. "Some common accommodations include longer time on tests and quizzes, testing in a reduced distraction area, permission to record lectures, access to lecture slides, just to name a few."
She encourages students to communicate with their instructors about their needs and take advantage of NMC's many resources, such as tutoring, the Writing and Reading Center, and the Math Center when they need extra support.
One student at NMC, who wished to remain anonymous, is pursuing an associates degree in Science and Arts (ASA) and has firsthand experience with the struggle of juggling mental health conditions and being a college student.
"I mainly deal with ADHD and autism, along with PTSD," he said. For this student, it can be difficult to keep up with schoolwork at times. He reached out to Disability Support, but the accommodations he was offered did little to help him succeed in class.
"I spoke to Baumeler last semester to see what accommodations were available to me, specifically seeking assistance for severe memory problems due to ADHD and PTSD," he said. The student made it clear to Disability Support that anything using audio or sound, like a recording device, would not help as he has issues with hearing and auditory processing.
"She gave me a pen that supposedly was going to record audio from the lectures and replay it. I never got to figure out how the pen worked as it was password locked and I was never provided with a password for it."
The student also raised concerns surrounding the accessibility of the services. Because Disability Support services require documented proof, often in the form of a medical diagnosis or doctor's note, the services aren't accessible to those who need them the most. "Not everyone can get documentation or a diagnosis," the student said.
Beetle Noble, an NMC student in his first semester, said the challenges that he faces as a student with learning disabilities have always made school difficult for him.
"I have ADHD, and various mental illnesses that have affected my school life," he said. "I always have a hard time getting everything turned in on time. Teachers have always been super understanding and helpful when I do reach out for help."
Noble stays on top of his schoolwork by using what he called the 'tomato timer' method. "I will work for 20 or 30 minutes and then take a 10-minute break. It gives my brain a chance to recharge and refocus, then repeat the process until it is done."
While Noble has not worked with Disability Support, he intends to look into it if he continues to take classes at NMC.
Leanne Baumeler can be reached at LBaumeler@nmc.edu for students seeking disability support and/or accommodations, and more information can be found at nmc.edu/disabilitysupport.