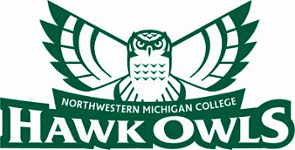 NORTHWESTERN MICHIGAN COLLEGE
WE HEW TO THE LINE;

LET THE CHIPS FALL WHERE THEY MAY.
Guide to Virtual Learning
Zara Zoom
Thought Leader
Tired of Zoom classes and staring at the wall all of the time? You have come to the right place! Look no further than NMC's official Virtual School Guide to Fun.

With this comprehensive guide, you will never have to wonder what to do in your free time in-between classes, or during those five-minute breaks when your professor needs to refill his coffee.

If you have friends in your classes, there is nothing wrong with placing a few in-chat bets. How many times will you see someone yawn or a cat walk across the screen? The possibilities are truly endless.
With the majority of NMC's classes being virtual throughout the year, students have come up with creative ways to keep themselves engaged without being on campus.

"My friends and I like to see who can show up to class with the silliest backgrounds," NMC student Stuart Little said. "I've gone to class from London, Paris—even the Grand Canyon."

If you find yourself super busy trying to keep up with the chores that have piled up around the house on top of your schoolwork, maximize your time by becoming a master multitasker.

"During our breaks, I see how many times I can spin around in my desk chair or how much I can run up and down my stairs. It adds a bit of spice to my classes, plus I get my exercise in," Little said. "I have also gotten into recreating Minute-to-Win-It challenges. I know it probably looks a little silly to see me empty an entire tissue box in under 60 seconds, but honestly, I'm pretty proud of my improvements over the course of the semester. Currently, my record is 48.735 seconds."

If you enjoy activities that are a little more low-key, we even have suggestions for you. Try your hand at watercolor painting and watch it dry while listening to the professor review for your exams. Create your own science project by documenting how long it takes your grass to green up after the last of the winter frost has gone away.

Now that the weather is finally getting nicer, more and more students have been taking advantage of the sun and have moved their classrooms outdoors.

"If I'm feeling a little more adventurous, I take my laptop outside. I've become close with a few of the neighborhood squirrels. One in particular, Jimmy, is actually quite good at philosophy," Little mentioned.
Have a habit of showing up to class early? No problem! Show off your stand-up comedy, even if it's from the comfort of your own bed. There is nothing better than a good ol' laugh to start off your lecture.

No matter where you attend your virtual classes, or what activities you use to keep your attention on your lectures, pat yourself on the back. The end of the semester is almost here and we can zoom into summer with a whole year of virtual learning behind us.