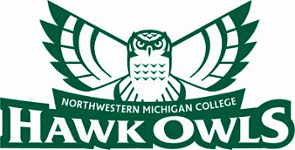 NORTHWESTERN MICHIGAN COLLEGE
WE HEW TO THE LINE;

LET THE CHIPS FALL WHERE THEY MAY.
Naan Flatbread Pizza
with Garlic Sauce
Ann Hosler
Copy Editor
Sometimes you get bored of having the same old pizza. Cheese, pepperoni, sausage, tomato sauce… the list goes on. That's where this gem of a recipe comes in. It's customizable, makes great leftovers, and uses any fresh veggies you have on hand as we head into Northern Michigan's harvest season. The garlic sauce recipe calls for four garlic cloves, but if you're a garlic lover like me, you can double that and not be the least bit disappointed.
​
Ingredients: Garlic Sauce
2 tbsp unsalted butter

4 garlic cloves, minced

3 tbsp all-purpose flour

¼ tsp black pepper

¼ tsp salt

¼ tsp dried oregano

1 cup milk

½ cup Parmesan cheese
​
Directions: Garlic Sauce
Melt butter in a small saucepan over medium-low heat.

Mix in minced garlic, cook about 15–30 seconds to release its flavor, but don't let it burn.

Quickly whisk in flour, pepper, salt, and oregano. Combine well.

Slowly add in milk. Continue to whisk until well-combined.

Wisk sauce occasionally until desired thickness is reached (it should not be runny).

Remove from heat and stir in Parmesan cheese. Whisk together until smooth.

Unused sauce can be refrigerated in an air-tight container for up to 24 hours.
Ingredients: Naan Flatbread Pizza
Naan flatbread (I like the Stonefire brand)

garlic sauce (tomato sauce works fine, too!)

chicken or other protein

greens (ex: microgreens, green onions, spinach)

shredded cheese (ex: colby jack, mozzarella)

Directions: Naan Flatbread Pizza
If using chicken or other protein, ensure it is pre-cooked to its recommended temperature.

Preheat oven to 350°F. Place flatbread(s) on a pizza pan or other non-stick baking sheet.

Spread garlic sauce on flatbread(s) – there should be enough for a thick, all-over coating.

Add on protein, greens, and/or other toppings that you prefer.

Spread shredded cheese evenly over flatbread(s).

Cook for 8 minutes in the oven, let cool slightly, and enjoy!