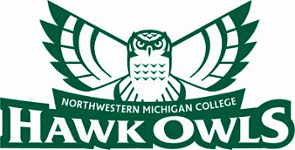 NORTHWESTERN MICHIGAN COLLEGE
WE HEW TO THE LINE;

LET THE CHIPS FALL WHERE THEY MAY.
Thanksgiving Holiday Reminder— No Classes Wednesday, Nov. 24 (5 p.m.)–Sunday, Nov. 28.

NMC's Board of Trustees met in a special session on Monday, Nov. 15 to fill the vacant trustee position left by Michael Estes last month. The board unanimously appointed Andrew Robitshek. He will hold the position until the next regular community college election in November 2022.

Michelle Seman is the new archivist and librarian. Seman succeeds Ann Swaney, who retired in October after 38 years with the college, or more than half of NMC's entire 70-year history. Semen has a master's degree in library and information science with a concentration in archives from the University of Wisconsin-Milwaukee.

NMC families who applied and were chosen for the Food for Thought Thanks-for-Giving project will be able to pick up their Thanksgiving meal boxes on Monday, November 22 at the Physical Education building from 2-4pm. The 50 local Big Brothers Big Sisters families can pick theirs up at Bill Marsh (1621 S. Garfield Ave.) on the same day from 5:30-7:30pm.

NMC has hired Lansing-based lobbyist firm, Kelley Cawthorne, (who will be paid $30,000 over six months) to advocate for a $5 million Osterlin renovation to turn it into a hub for student services, as well as two other NMC projects. The Osterlin project will be submitted as part of NMC's five-year capital outlay plan for the state's 2023 fiscal year.