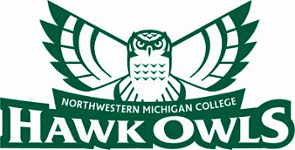 NORTHWESTERN MICHIGAN COLLEGE
WE HEW TO THE LINE;

LET THE CHIPS FALL WHERE THEY MAY.
Jason Slade
Contributing Writer
The pandemic has brought many changes to the workforce and how we work. One of the most profound has been the rapid shift to remote and offsite work.
There was a time, not too long ago, when working remotely was reserved for those in IT (software developer) or regional sales positions. The pandemic expedited the push to remote across all sectors, and jobs that had never been remote are now fully online.
There are many articles on the "J" curve that saw performance dip temporarily in March 2020, yet rebound as employees (and companies) became more efficient. The "J" curve occured when performance plummeted at the beginning of the pandemic, due to the chaos of going remote and shelter-in-place orders, forming the bottom of the "J". At this point, productivity was at its lowest. However, after bottoming out, performance quickly rebounded and actually exceeded output prior to March (straight part of the "J").
This increase in efficiency made many companies rethink the potential of remote work and alleviated previous fears. In addition, there are rumblings of large corporations downsizing their physical footprints by regionalizing offices or shifting departments to be permanently remote.
Twitter was one of the first companies to make the move to permanent remote work for various departments, citing the fact that work was occuring effectively at home. These announcements seemed to turn the tide of negative connotation surrounding remote work that saw Yahoo and other large corporations cease the practice in the interest of driving innovation a few years ago.
But this article isn't about that—it is about you. Has this shift in the work environment changed your career goals? Do you like the idea of remote work and its perceived freedoms? Does a job that was once in a "stuffy" office setting (think cubicle farm) appeal more now because you can work from anywhere?
I am seeing this with former colleagues, both students and friends. Case in point: a young tech professional currently in industry has always been tied to the office. She had some freedom to work one or two days outside of the office, but now her whole world has opened up. She enjoys the freedom of working for a few hours, decompressing at lunch, returning to tasks, and then wrapping up when she has accomplished her goals for the day. Combine that with the benefits of not commuting (time, money, gas, etc.) and it has been a very positive remote experience. She is taking this one step farther by renting a place in another state and
working truly remote for a few months as her company won't return to the office until sometime next summer.But will she come back? She said she may never go back to a job that requires her to physically be present in an office everyday. That is the question many employees and companies are pondering. Once these remote jobs return to the office, especially five days a week, will the rank-and-file return too?
Many employers and employees are grappling with this. Remote work opens up the talent pipeline to the entire world. Why wouldn't you want the best for a potential job opening? But by the same token, the best worker may not want to relocate or come into the office. This will be a driver for the next few years.
Boston Consulting Group conducted a study this summer, surveying more than 12,000 workers regarding remote work. More than 60% of the respondents stated that they want a job with flexibility. These numbers are expected to go up as more and more companies stay remote. Some of the largest employers in Michigan will continue working remotely—including General Motors with more than 25,000 salaried employees—potentially staying remote until June 2021. Will this be the push for permanent remote or hybrid work environments?
So as you finish up your class, degree or certificate, what are your job expectations? Will you even consider a job in an office? Or is it 100% remote for you? This will be a question for many moving forward and will be a driver for the regional and statewide economy. It will be interesting to see how this all works out!

Jason Slade is the director of the Technical Division at Northwestern Michigan College.