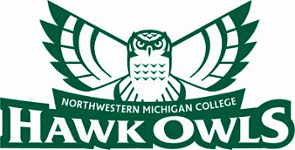 NORTHWESTERN MICHIGAN COLLEGE
WE HEW TO THE LINE;

LET THE CHIPS FALL WHERE THEY MAY.
Beating the Pandemic, One Shot
in the Arm at a Time
NMC Serves Grand Traverse County With Vaccine Clinic
Kathryn DePauw
Editor in Chief
Florina Kapitzke, a volunteer at the Hagerty Center vaccination clinic, recently received her first dose of the vaccine.
It is New Year's Day for many walking out of the Hagerty Center, where Northwestern Michigan College, the Grand Traverse County Health Department, and the National Guard have run a vaccination clinic since January 18. This month marks the one-year anniversary of COVID infections in Michigan. The first cases in the state were identified on March 10, 2020, the same day that Governor Gretchen Whitmer issued an executive order declaring a state of emergency.

While this date may be a sobering reminder of a difficult year, many look forward with hope. Those newly inoculated with the COVID-19 vaccine at NMC's Hagerty Center are feeling relief. And as they leave the "Year of COVID" behind, they enter a new world where the burden of fear is lessened, if not completely removed.

NMC and the Hagerty Center has been a partner in the Grand Traverse vaccination program since the beginning of its inception. "NMC has been working closely with the county and other local organizations since the start of the pandemic. We've been meeting at least once a week in the Joint Operations Center run by the county," explained Diana Fairbanks, NMC's executive director of Public Relations, Marketing and Communications.

At these meetings, health leaders share updates on locally coordinated efforts to respond to the pandemic. The partnership between NMC and the Grand Traverse Health Department grew out of this relationship during the planning phase of vaccine distribution.

"With no events at the Hagerty Center and most classes held virtually, we had room available while the county was looking for a larger space to speed up the vaccine distribution process. It was the perfect fit," said Fairbanks. Once the vaccines were approved, it only took a few weeks to set up the clinic.

"I can't say enough great things about their (NMC's) willingness to open their doors to us and have the local health department and NMC just be these really beneficial community partners together," stated Mike Lahey, Grand Traverse County Health Department's Emergency Preparedness Director.

It takes a variety of specially trained workers and volunteers to administer the vaccines and run the clinic. On their busiest day (an 11-hour split shift), the clinic had 46 health department staff, 10 health department command team/support staff, six 2-member National Guard Teams, and 12 volunteers—a total of 80 personnel. Starting this week, NMC will become more integrated with the clinic as nursing students begin helping to administer vaccines.

While healthcare workers and National Guard members qualify for vaccines, not all volunteers do. Only once a volunteer has shown their commitment to the work will they qualify for a vaccine. This helps the community reach its goal of herd immunity and protect the functionality of the clinic. "We need a sustainable process. And the volunteers have really done an amazing job in stepping up in this community and the willingness for them to keep coming back and stay so positive is really an overwhelming thing to watch," said Lahey.
​
One of these volunteers, Florina Kapitzke, easily identified by the cougar mask she wears over her N95, was motivated by a sense of civic duty. Kapitzke is no stranger to volunteering, typically giving her time to the Salvation Army, the State Theater, or Planned Parenthood, before COVID-19 limited these opportunities. Kapitzke says she wanted to serve her community, to go where she was wanted and needed. "When my community is safer, I'm safer." After working four weeks with two to four 3–4 hour shifts, she received her first dose of the vaccine on March 2.

The impact of that moment didn't hit her until later. "The other day I went and got the newspaper out of my front yard, and I saw ground. It was a harbinger of spring for me." Kapitzke recalled how she began to cry in that moment. "I had my vaccine. I had all of these feelings of hope, that I would be able to hug my mom again, hug my twin, and hug my nephews."

Emotional and celebratory moments occur regularly at the clinic, which serves as not just a distribution center for preventive medicine, but also as a psychological and emotional boost for the community. After a year when people have often felt helpless, getting vaccinated gives people a sense of control over their personal safety and creates hope for the future. This optimism is a nice change of pace for many in the health field.
​
"Some people get emotional, some of us get emotional," stated Emmy Schumacher, outreach coordinator and public information officer for the Grand Traverse County Health Department. "Everyone who is coming to the Hagerty for their first dose, this is their first opportunity to receive peace of mind and letting some of the fear of the past year lay to rest."

One individual, whose appointment was made with the assistance of the Commission on Aging, was especially touched by the presence of the National Guard and left a voicemail at the health department explaining that her father had been in the Army and she could imagine him in the shoes of those soldiers. One woman wore a ballgown with a pin that said, "Best Date of the Year." Another man, whose family has connections to Portage, Michigan-based Pfizer, wore a company hat and t-shirt. Others talked joyfully with staff and volunteers about finally seeing their grandkids.

With the staff and space to run the clinic, the limiting factor has been the vaccines themselves. While there are many instances of confusion and frustration surrounding the process of getting a vaccine in the past couple of months, Schumacher says the Hagerty Center space has made a difference, especially at the beginning of the year. "It might have been difficult to get that appointment, but once you got to the Hagerty Center, it's a smooth process from start to finish. And we've seen a lot of smiling faces coming through that clinic," she commented, adding that the positive feedback has been "a gift to the health department staff after this rough year." This smooth operation has led to 400–700 appointments per day, a number that is likely to increase moving forward.

Vaccine scheduling is constantly being improved and will likely get even easier thanks to an improved shipment schedule. Previously, the Grand Traverse Health Department was made aware of shipments the Friday before receiving them the following Monday, giving only a few days to coordinate. Recently they have been promised more notice, closer to a few weeks out. This will allow them more time to plan how and where vaccines should go. While vaccine distribution changes quickly due to production levels and vaccine developments, having some notification should make scheduling a little less hectic for the immediate future.

The number of available vaccines has also been an issue. As of March 5, the Hagerty Center clinic had administered 17,659 vaccine doses, but the demand has been consistently greater than the supply. Schumacher explains that the supply is expected to increase over the next few weeks which will help improve the rate of vaccinations. "We anticipate our numbers continuing to climb at, hopefully, a more than steady pace with the vaccine supply that we have."

Supply shortages or distribution decisions made at the state level have often frustrated those forced to wait for a vaccine. When making allocation decisions, the state considers a health department's regional population and the Social Vulnerability Index (SVI), which measures how well a community is equipped to prevent human suffering and financial loss due to disaster. The SVI looks at things like indicators of socioeconomic status, the composition of households, race, ethnicity, language, and housing and transportation issues. The state looks at the population number and then adjusts based on the SVI, so areas with more vulnerability will see their number of vaccines increase. For more information on how the state distributes vaccines, go to michigan.gov/coronavirus.

The newly approved Johnson & Johnson vaccine, of which the Grand Traverse county health department has received a small number, will add to these numbers. Due to the stability and one-time dosage of this particular vaccine, people who live in remote areas or face either transportation or mobility issues will likely be the first in line for the new vaccine. The Hagerty clinic has administered mostly Pfizer vaccines along with some Moderna. It is not likely to receive the Johnson & Johnson vaccine anytime soon.

Addressing these issues is critical to help the community reach herd immunity, which will protect the population from outbreaks and reduce infection rates. The current recommendation is that 70% of the population be vaccinated in order to assume this widespread protection. According to Michigan.gov's COVID-19 Vaccine Dashboard, as of March 4, 32.3% of the population of Grand Traverse County have received their first shot, totalling 24,795 individuals; 22% of the population is fully vaccinated, a total of 16,885 people. The Munson Healthcare System runs its own vaccination program and contributes to these numbers.

It is unknown how long the Hagerty clinic will remain open as a vaccination site. As the health department adjusts to an ever changing situation, the priority will stay on how best to protect the community. With plans on opening a clinic at the Howe Arena on hold for now, it's hard to know what will happen in the long run. "It's a pretty fluid relationship that we're thankful to have with NMC," Lahey said. When asked if the Hagerty clinic has an expiration date he explained that, "Dates have been discussed," but emphasized that nothing is decided yet. As the weather warms, Lahey says it may even be possible to bring vaccine services outdoors.

Confronting the challenges of a global pandemic is the great feat of our time, and there is a long way to go to reach the 70% inoculation goal. It is fitting that the "community's college" should be at the center of the response. Partnerships created the success of this vaccine clinic and this sense of community has created a momentum that will hopefully see us through COVID-19.

As the sun shines down on an abnormally warm March, and the white-capped waves dance in front of the Hagerty Center, it is easier to imagine a new beginning and a new year for us all.
What to Expect on Your Visit to the Hagerty Vaccine Clinic

If you have an appointment scheduled to get your vaccine at the Hagerty, there is no need to feel nervous. Health staff, National Guard members, and volunteers are there to answer all of your questions. Helpful arrows on the floor will guide you through the stations listed below and you will be done in no time.
​
Screening: Upon entering the clinic, visitors are screened by volunteers and staff for any health symptoms.

Check-In

: Visitors then check-in to their appointment and fill out a basic health form. The vaccine is free, but the form does ask for health insurance information which, if applicable, would be billed for administration fees only. Those without insurance do not pay these fees; it is simply a way for the county to help recover some of the cost. The patient's information is then entered into the Michigan Care Improvement Registry (MCIR), the database for all immunization records in the state.

Greeter: Follow the arrows to a greeter, who will share resources and explain expected side effects based on the brand of vaccine being administered.

Vaccination: From there, it is a quick visit to the vaccination booths, overlooking the bay, which are safely spaced and separated by makeshift blue walls that resemble election day voting booths. Each booth is staffed by a nurse, who administers the shot, and a tech, who provides support. Here, visitors are asked some screening questions, then they choose which arm they want to receive their vaccine in (most commonly the non-dominant arm). It is also here that vaccine cards are distributed. Following the vaccination, a tech then gives a "time out" card to the patient that they take to the observation area.

Observation: This is the last stop for visitors. Everyone is monitored for 15 minutes after vaccination to watch for any possible side effects. Individuals who claimed adverse reactions to previous vaccines in their paperwork are required to be monitored for 30 minutes. In the meantime, nurses are there to monitor the patients and are available to answer any questions. It is also a good time to set up the V-Check app, a phone application that people can use to record side effects to the CDC. They also provide an educational slideshow about the vaccine. The "time out" card states the time that visitors can safely leave.