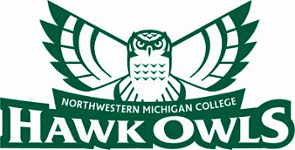 NORTHWESTERN MICHIGAN COLLEGE
WE HEW TO THE LINE;

LET THE CHIPS FALL WHERE THEY MAY.
What the Tech?!
Virtual Conferencing Redefines Itself During COVID-19
David Hosler
Contributing Writer
On March 13, Northwestern Michigan College made the difficult decision to close in order to help prevent the spread of the novel coronavirus, COVID-19. Faculty, staff, and students had to change their approach to education the remainder of the semester. With support from the Educational Media Technology department, most faculty transitioned to remote learning within a few days. At the forefront of this change were technologies that many faculty had little experience with, including video conferencing software like Zoom and Discord.
These video conferencing companies were unprepared for the inundation of instructors and classes being delivered remotely around the world. Zoom Video Communications, Inc., experienced major outages in the first days of shutdown, often leaving instructors and public school teachers without a venue to teach their classes. "We did not design the product with the foresight that, in a matter of weeks, every person in the world would suddenly be working, studying, and socializing from home," Eric Yuan, a Chinese immigrant and founder of Zoom, stated in an April 1 blog post.
Yuan rose to the challenge presented by such an influx of users. According to NPR's Bobby Allyn in a May 7 article, "Daily use of the remote-meeting service ballooned to 300 million from about 10 million in a matter of months." Over the past five months, Zoom has updated at least 49 times. These updates have addressed many instability issues caused by the surge of daily meeting participants.
With the transition to version 5.0 of its software, the company addressed a growing problem—Zoombombing. This is an event where random individuals randomly guessed a Zoom meeting number to join it. The first security upgrade to address this issue enforced default password requirements on new meetings. A later update changed the meeting encryption to a more secure algorithm. This provides a much higher level of data integrity, enduring that the meeting can't be intercepted and modified for malicious purposes.
"I am committed to being open and honest with you about areas where we are strengthening our platform and areas where users can take steps of their own to best use and protect themselves on the platform," Yuan explained.
Some instructors instead transitioned to using Discord, a service often associated with video gaming.
The Discord software allows many people to join the same channel and chat using text or voice. Its Go Live feature enables a user to stream their screen or a webcam to other users in the channel.
In a blog post on March 11, Discord CEO and creator Jason Citron announced an increase in the limit of the number of users watching a Go Live video from 10 to 50. This change allowed instructors and students to utilize its software for classroom activities. "We'll maintain the higher user limit as long as it's critically needed," Citron said. "We hope it makes peoples' lives just a little easier and a little less stressful day-to-day."
Google Meet is an educational software tool available to G Suite users. It has been made more accessible during the pandemic by allowing all advanced features without the standard monthly fee. These features include larger meeting sizes, up to 250 participants per call, up to 100,000 viewers for a single domain, and automatic saving to an attached Google Drive. The fees are waived until Sept. 30, with the expectation that it will be extended longer as needed while the virus is still active.
While the pandemic still ravages the nation, and colleges and universities around the world are using remote learning tools, the companies that are relied on need to meet new challenges. Yuan, Citron, and Sundar Pichai of Google have all steered their companies to help educators from around the world, and will continue to do so throughout the COVID-19 crisis.

David Hosler is an instructor in the CIT Infrastructure program at NMC.