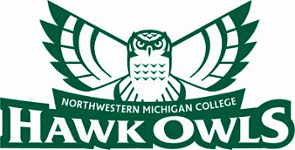 NORTHWESTERN MICHIGAN COLLEGE
WE HEW TO THE LINE;

LET THE CHIPS FALL WHERE THEY MAY.
Downtown Gifts That Give Back
Rachel Bonesteel
Staff Writer
The holidays are fast approaching here in Traverse City. As students prepare for their finals there's one more thing on everyone's mind—finding the perfect gift for their loved ones. With a variety of businesses ranging from food to fashion there is something for everyone downtown Traverse City this holiday season. Many local businesses also give back to the community and can help you spread cheer to more than just your family.
My Secret Stash is located on Cass Street downtown Traverse City. Here you can find an array of shirts, stickers and buttons featuring rainbows that give back 100% of the proceeds to Up North Pride. If you aren't familiar, Up North Pride is a local group that holds celebrations for those in the LGBTQ+ community and their allies. The nonprofit's goals according to their website are "To foster inclusive spaces by providing education and resources, activism and advocacy, and producing community focused 2SLGBTQIA+ programs and events." Whether you or a family member are in the LGBTQ+ community or you just want to support a great cause and get some colorful gear, My Secret Stash has it.
The American Spoon located on Front Street is a wonderful place for those who can't stop cooking. They feature a wide array of jams, preserves, salsas and roasting sauces. This family owned business is based out of Petoskey and has been sourcing 90% of the ingredients from local farms all over western Michigan since 1984. They ship nationwide, and by ordering from them not only are you getting natural products but you're also supporting local farmers and foragers from across the state. American Spoon's products are great for the foodies in the family and offer a variety of recipes in-store and online featuring their products.
It's just as important to support the environment as it is to support local businesses. At Green Island, a locally owned business on Front Street, you'll find a variety of gifts that support fair trade, are recyclable, or are made from recycled or compostable materials. Green Island has everything from bedding to handmade bowls and reusable totes. They also work with a variety of companies that donate proceeds back towards their communities and help with environmental causes.
Horizon Books has two floors of everything from children's books to thrillers to history novels. Horizon has been selling books in Traverse City for 50 years (established in 1961) and also has locations in Petoskey and Cadillac. They have books from Michigan authors such as P.J Parnish, a Detroit born sibling duo who write mystery thrillers. For younger readers, books such as M as in Mitten, The Legend of Leelanau, and Goodnight Traverse City are great holiday gift options. Horizon ships right to your doorstep, and by buying select books you can support Michigan authors.
Brew is a great place to grab a drink and a gift certificate for anyone who loves coffee or alcoholic beverages. Brew uses organic teas, coffees and espressos. They also feature local wines, microbrews and cocktails for those 21+. Not only do they have fast and convenient service with online ordering, but they also offer free wifi and a relaxing atmosphere for customers to work, read, or simply enjoy a beverage and a pastry. This independent and locally owned business is perfect for those who enjoy a nice pick me up drink.