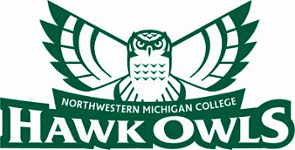 NORTHWESTERN MICHIGAN COLLEGE
WE HEW TO THE LINE;

LET THE CHIPS FALL WHERE THEY MAY.
Teaching and Learning in a World of COVID
Scott Goethals
Contributing Writer
If there is one thing that is certain, it's that the COVID-19 pandemic has made a significant impact on education. For me, it has changed how I teach my classes and my perception regarding the technology that my students have access to. It has also made me more "human" and aware of my student's situations and how difficult this pandemic has been for each of them.

Over the past year, we have seen a rapid change to remote instruction. Names that were once foreign to us, such as Livestream, Zoom, and Google Meet, have quickly become part of our daily lives.

My initial reaction when finding myself teaching remotely was that it would work just fine. I would teach my classes as I always have (only livestreamed and not face-to-face), and students would be able to still learn the information from my courses that would help them be successful. Boy, was I in for a surprise. It didn't take long to realize that my expectations were very much removed from reality.

My first challenge came when most students didn't turn on their webcams. I couldn't figure out why most students hesitated to show themselves, before realizing that many didn't have the bandwidth to support video, and that some didn't even have machines with webcams. Combine this with the fact that most CIT students tend to be introverts and I soon found myself teaching to an audience of one. It became quickly apparent that not being able to tell if a student is physically present also means that I am unable to tell if they are mentally present.

Suddenly, class activities and engagement became critical to ensuring success. I knew I had a number of activities and engagement opportunities built into my courses, so I wasn't too worried. That was until I determined that while many of the software tools work great in the classroom, I couldn't be certain they would work in my student's home environment. In fact, I found that many of my students were attending classes using their phones with cellular service because high-speed internet access just wasn't available.
​
I realized that I could not assume that learning would take place as I hoped and expected it would. It forced me to evaluate each of my courses to ensure that all of my students would have the same learning experience. Activities that I once assumed would work for all had to be changed to ensure an equal remote learning experience while still making sure the course objectives were being met.

Another critical component of my teaching that changed was reaching out more to students to find out how they were doing. While I have always been concerned about my student's well-being, the pandemic has made life much more difficult. Many of my students suddenly found themselves out of work or working from home, while often having to take care of children who also had to learn remotely. It definitely added stress to what was already a stressful situation.

Since livestreamed courses were a new delivery method, I also wanted to hear students' thoughts and feedback on the course, including what was working, what wasn't working, and overall "how things were going." While this is something that I have always done, I found myself more frequently asking students for feedback. If there were roadblocks or barriers preventing them from being successful, I wanted to make sure that I reduced these as much as possible.

What I have learned from this past year is that the Digital Divide is still an issue today. Technology is what continues to move this country and the world forward, yet that lack of high-speed internet access continues to leave some folks behind.

Fortunately, there is a new option that may be a game changer for many people living in rural areas. Starlink (starlink.com), a new satellite internet option from Space-X, is currently accepting customers on a first-come, first-serve basis. Its goal is to be a high-speed, low-latency broadband internet provider for those who live in areas where traditional high-speed options are not available. I know of several students who do not have access to high-speed internet that are currently using this option, and so far, they are pleased with the performance they are receiving.

I have also learned that as an educator, I have to continuously be creative and look for ways to ensure my students all share the same experiences, whether learning is in-person or remote. Each student's own life experiences are different and often unique—what I perceive to be the norm isn't necessarily the case.

Over the past year, COVID-19 has impacted each and every one of us. It has changed how education is delivered, and for me, it has significantly changed my perception of how my students learn and how I teach my courses.

Scott Goethals is an instructor in the CIT Infrastructure program at NMC.