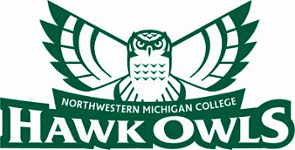 NORTHWESTERN MICHIGAN COLLEGE
WE HEW TO THE LINE;

LET THE CHIPS FALL WHERE THEY MAY.
Get Out the Vote
Kathryn DePauw
Editor in Chief
In a year full of firsts, many people in Grand Traverse County are adding one more thing to their list – voting.
"I felt like it was long overdue, honestly. And a level of relief," explained Traverse City resident Bridget Bernhard, a 26-year-old Renewable Energy Technology student who is registered to vote for the first time. She never felt that voting was a priority.
"I left the country when I turned 18 and didn't feel it was important to register."
Many others in Grand Traverse County are feeling the need to register as well. There has been a steady increase in registered voters since March, with current numbers closing in on 80,000 (up from about 74,000 in October 2016). While many of these may be 18-year-olds newly inaugurated into the responsibilities of adulthood, there are also older voters like Bernhard who are finding new meaning in the process.
While Bernhard didn't disclose her political leanings, her reason for registering at this moment is one that applies across party lines. "My biggest motivation was the realization that I have importance in this world. To recognize my worth is important and with that comes responsibility to myself and the world around me."
The process of registering and voting is simple enough for those nervous newcomers to navigate without too much trouble. To voting in person, you can register at any time up to 8pm on election day at your city or township clerk's office. If registering by mail, applications must be received or postmarked by Oct. 19. With a state ID or driver's license, registration can be completed anytime online before Oct. 30 at mvic.sos.state.mi.us/registervoter.
Voting itself is also quite flexible. In-person voting occurs at the assigned polling location anytime between 7am and 8pm on Nov. 3. For those with COVID-19 concerns, completed absentee ballots can be dropped off at your city clerk's office by 8pm Nov. 3 or, due to a recent ruling, postmarked by Nov. 2. Absentee ballots can be requested online, from your township or city clerk, no later than 5pm the Friday before the election or, if you've already registered, at your clerk's office any time before 4pm on the day prior to the election.
A 2018 state constitutional amendment that allows absentee voting without a reason is critically important in this year's election. Due to the COVID-19 crisis, many are turning to mail-in ballots as a safer alternative to in-person voting. The August state primary saw nearly 1.6 million ballots cast absentee, almost 60% of the total across Michigan. In Grand Traverse County, 68% of the vote was counted before Aug. 4, with even more mail-in ballots counted on election day. With the long history of military mail-in voting, the success of the August primary ballot count, and the low number of voter

Image courtesy of Gwenne Allgaier
Dr. Jill Biden visited Right Brain Brewery in Traverse City on Sept. 29 to promote voter registration and campaign for her husband, Joe Biden.
fraud on record, voters should have confidence in casting an absentee ballot.
Numbers show that Democrats are more likely to vote via mail than Republicans and much of the "get-out-the-vote" effort is also a "mail-in-your-vote" effort. Dr. Jill Biden campaigning for her husband, former Vice President Joe Biden, was in Traverse City on Sept. 29. Whe wore boots that read "V-O-T-E" and flanked by Chasten Buttigieg, TC native and husband to former Democratic presidential candidate Pete Buttigieg, to encourage people to register.
"There are so many people who want to tell us that our nation is hopelessly divided," Dr. Biden said, "that our differences are irreconcilable, that our communities are fractured beyond repair, and beneath that is another message: 'Your voice can't fix it, your vote won't change it.'"
Biden's speech, which never mentioned President Trump's name, was light on politics but did touch on school safety, education, and the effects of climate change on local farms. The majority of her time was spent focused on a unifying message. "Democrat and Republican, rural and urban, from north to south to east to west, our communities are showing us that the heart of this nation still beats with kindness and courage," Biden told the Traverse City crowd. "We can still love and respect one another."
This type of positive message may feel strategic during an election cycle where many, if not most, voters are fueled by political divisiveness with a winner-take-all mentality. But seeing beyond Nov. 3 and looking at political awareness and community engagement as the "win" is the message that Bernhard wants to share with non-voters watching from the sidelines.
"There is more to the world than ourselves." Bernhard said. "We have a responsibility to get together to make things happen, and it wouldn't be the same without you."