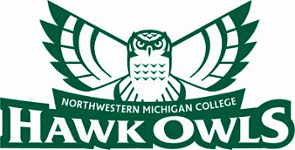 NORTHWESTERN MICHIGAN COLLEGE
WE HEW TO THE LINE;

LET THE CHIPS FALL WHERE THEY MAY.
COVID-19 Flips Campus Life
Kathryn DePauw & Emily Slater
Editors in Chief
Teresa Noah left campus early last spring with a feeling of unease. She, and many student residents like her, did not fully understand what leaving halfway through a semester meant.
The college made the decision on March 13 to pivot to virtual instruction. Campuses were fully closed and remote work for campus employees went into effect on March 17. NMC president Nick Nissley released an open letter to students and employees on the same day, explaining the decision. "Late last night we learned of the first confirmed case of COVID-19 in Traverse City," Nissley wrote. "This is a trigger event we identified that would necessitate the closing of the college, to be consistent with public health protocols and to ensure campus and community health and safety."
A statewide shelter-in-place order was issued by Governor Gretchen Whitmer the following week and went into effect on March 24. All but 130 of the nearly 800 students living on campus departed the dorms in March, leaving those who could not easily return home on a virtually empty campus.
Noah shared the stress and uncertainty she felt during this time with the White Pine Press back in March. A follow-up with Noah revealed that she returned home to Illinois to finish up her semester with less focus and enthusiasm than she typically shows. "The semester went poorly due to abruptly moving home and losing all semblance of a schedule, along with having little motivation."
Since March, NMC has continued to provide necessities to its students—whether they're on campus or are learning remotely—with groceries provided by the free student pantry. In addition, more than $1 million in CARES Act emergency funding has been dispersed to 705 NMC students. Updates were given regularly throughout the last six months via email and social media; the college worked to reassure students that it was doing everything that it could to create a safe environment to return to in the fall.
Though many classes continue to meet virtually, with about 63% of courses being taught via livestream or online, heavy COVID precautions are in place for in-person instruction. Masks are mandatory, social distancing is required, and those experiencing symptoms are asked to stay off campus. Signs reminding people of these rules are posted liberally throughout NMC and ample floor markings help to enforce social distance in common areas, hallways, and stairways.
Students who live on campus are fully immersed in these changes and are still adjusting to many of the new guidelines. Noah returned several weeks ago to a new dorm and a new reality. Despite how the spring semester ended, she was optimistic, excited, and relieved to be back at NMC where she could fully focus on her schoolwork. Here, she has the space and freedom she missed while at home.
She resides in North Hall this year, which allows her to have her own room and a common area she shares with three others. Students living within the same dorm building are restricted to their own rooms, so no one is allowed in this space except the four residents. Within the buildings' hallways and gathering places, masks must be worn, and visitors are not allowed. Noah claims that students have been communicating with outsiders through the glass doorway or by stepping outside, an option that will become more difficult once the weather cools.
Living with these restrictions day in and day out can be tiring and challenging for students who yearn for the traditional college experience. According to Noah, the school has been very communicative about the rules but in the chaos of getting settled into a new semester, sometimes students miss things. Early in the semester, Noah admitted that she and a group of her friends were stopped for playing basketball outside without masks, a rule that she was previously unaware of.
While several mask infractions have been witnessed by Noah, she believes that most students want to be safe and follow the guidelines.
"Most students are following the new procedures as we don't want to be forced home once again," she explained. Failure to comply with NMC's housing contract, which entails strict mask requirements among other rules, could result in removal from the dorm.
While these precautions are new to the campus, services that were already a staple at NMC are ramping up their services as well. Flyers with QR code lists that link to information and resources can be found around campus.
Michelle Vanwetter enters the Health & Science Building during an NMC semester that feels upside down during the COVID pandemic.
​
Noah praises the school's promotion of these programs, which she feels is needed during this challenging semester. "They have made it pretty easy to use and find these resources with the lists along with the My Success tab in Moodle," Noah said, also noting that she has already accessed the library and met with a success coach.
In addition to the plethora of health services already provided by Student Health Services, including but not limited to immunizations, chronic disease management, gynecological exams and cervical cancer screenings, physicals, and health education on a myriad of topics, the NMC health clinic has also taken steps to prevent and prepare for COVID-19 cases on campus and within the student body at large.
Student Health Services, located in the Biederman building, has set up a room in Osterlin for students who have COVID-like symptoms and are in need of testing. The room, which has its own private entrance, allows for possible COVID cases to be contained while receiving care. NMC is able to order COVID testing for students but also has a small amount of tests available to administer on-site for those unable to get to an off-campus testing facility.

NMC has had multiple opportunities to test its response with three cases having been confirmed already.
July 15: The first confirmed COVID case on campus was a Maritime cadet who was four days into a two-week quarantine when diagnosed. The quarantine was voluntary in preparation for a training cruise. The student was asymptomatic at the time and there was minimal exposure to others.

Sept. 1: A student who had recently visited the main campus tested positive. They attended a lab class on Aug. 24 and were at the library on Aug. 25. The student was exposed to a COVID-positive patient on Aug. 22 and was urged by the Grand Traverse County Health Department to quarantine and get tested on Aug. 29. Contact tracing was performed, with affected individuals self-monitoring for 14 days. Deep cleaning of labs occurs nightly.

Sept. 8: An employee at the University Center was contacted by the county health department to inform them of contact with a COVID-positive patient. The employee had been showing symptoms since Sept. 1, but had not been on campus. The only possibility of campus exposure was Aug. 24, when the employee was asymptomatic. This person is currently presumed positive for COVID.
​
Since the discovery of exposure can take time, students should know that even if they aren't on campus they can still take advantage of the college's health resources. It is possible to contact the clinic and meet with staff via telehealth visits, or speak with a nurse on the phone.
Physical health is not the only aspect of the health of the student body that NMC has focused on, however. Student Health Services provides care for anxiety and depression Students wishing to speak with a counselor may do so for free through Student Life Success.
NMC Student Health Services director Koleen Kerlin-Spigarelli reiterates the importance of both physical health and mental health. "Take care of yourself. Get fresh air, exercise. Do what you can within the guidelines to socialize," she says, "and reach out. Because there are resources."