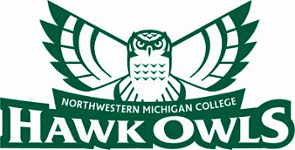 NORTHWESTERN MICHIGAN COLLEGE
WE HEW TO THE LINE;

LET THE CHIPS FALL WHERE THEY MAY.
Students Struggle to Connect During COVID
Rachel Bonesteel
Staff Writer
Students all across the country have just endured their first month of college, and are feeling more stress and anxiety than ever before. Along with the usual stresses of deadlines and new living conditions, students are left to deal with a global pandemic that has changed the way they socialize and live. Despite the best efforts of students and NMC, COVID-19 has still placed a toll on students.
Mary Garay moved to Traverse City this fall to attend NMC. Garay is a dental hygiene student originally from Vermont. Before moving, she felt "excited and happy, I couldn't wait to make new friends." Due to COVID guidelines, events held by students have been limited. Even with the Student Life office working hard to connect students, Garay claims she had trouble making friends at first. "Masks add a barrier, they prevent us from socializing normally."
Increased numbers of online classes have added to the amount of virtual interactions teachers and students experience daily. However, not every student misses the face-to-face interactions.
Megan Franzel, an NMC student from Sandusky, Michigan, appreciates the virtual options the pandemic has created. "Online courses are easier, they freed up my schedule so I can do more."
For prospective and incoming students, choosing a college has new difficulties due to ongoing restrictions. "Because of the pandemic, I realized I needed to make smarter choices with my money and my future," said Garay. "NMC gave me the opportunity to go to school for cheap and for something I want, as opposed to a university where I'd have just general classes. NMC seemed to encompass everything I needed."
Moving out of state, Garay claims her biggest concern was "being away from family". After being in the house with loved ones for almost a year, this was a difficult decision that brought on even more feelings of worry and anxiety for her.
It is clear that NMC has a big role to play in connecting these new students. Garay claims what helped her was "definitely how welcoming and helpful the staff and teachers were." Seeing friendly and familiar faces around campus is what helped her get settled.
"Decorating my dorm, pictures of my boyfriend, my family and my dog of course," is how Franzel made NMC feel like home. Despite the circumstances of our world, all of NMC's students are receiving their education, they have persisted and continue to settle in as the semester progresses.
Photos by Kathryn DePauw & Ann Hosler