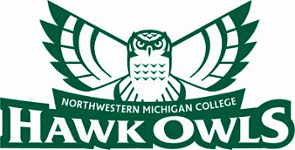 NORTHWESTERN MICHIGAN COLLEGE
WE HEW TO THE LINE;

LET THE CHIPS FALL WHERE THEY MAY.
Explore 100 Years of Michigan Art and Architecture
Craig Hadley
Dennos Museum Center
While it's difficult to travel anywhere these days, that doesn't mean you can't continue to explore from the comfort and safety of Traverse City.
Journey through time and explore over 100 years of Michigan landscape, portraits, and building architecture this fall in two new exhibitions at the Dennos Museum Center. These exhibits are free for all NMC students when you present your student ID at the museum lobby desk.
Open through Jan. 31, 2021, Michigan Modern will highlight our state's unique history of stunning mid-20th century modernist architecture—from one-of-a-kind homes to civic centers and office buildings, I'm sure you'll be as awe-struck as I was when we first unpacked these photographs by James Haefener. It's a truly magnificent survey of the unique buildings that dot our landscape.
That brings us to our second exhibition, also open through Jan. 31, 2021, which features lush Michigan landscapes, portraiture, and seascape paintings from as far away as Spain. Enter Mathias Alten: An American Artist at the Turn of the Century, on loan to the Dennos Museum Center from Grand Valley State University. Alten (1871-1938) is regarded by many to be one of the most influential Michigan painters of the 20th century—don't miss this special opportunity to see this stunning collection!
Photo courtesy of Dennos Museum Center
HOURS
Sun - Thu: 11am - 4pm
Closed on major holidays
ADMISSION
Adults: $6
Children: (17 and under) $4
Children: (3 and under) FREE
Museum Members: FREE
NMC Students & Faculty (with ID): FREE