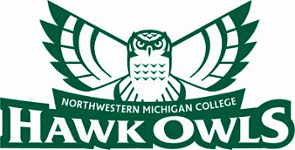 NORTHWESTERN MICHIGAN COLLEGE
WE HEW TO THE LINE;

LET THE CHIPS FALL WHERE THEY MAY.
Home Nurse Benefits From Futures for Frontliners
Micah Mabey
Staff Writer
Photo courtesy of Falechia Barry
Falechia Barry, home healthcare worker, seen here in the Watershed Science class, is working toward a degree in Freshwater Studies.
With the COVID-19 pandemic still in full swing, we're seeing a lot of help going out to frontline workers: the nurses, grocery store workers, food workers—the list goes on. They all deserve the praise, too. They're putting their lives on the line so that we don't have to.

One of these assistance programs started April 29, 2020. Michigan Governor Gretchen Whitmer announced a state scholarship program for essential workers called "Futures for Frontliners." The program allows essential workers who worked during the Spring 2020 COVID-19 shutdown (April 1–June 30, 2020) to attend community colleges tuition free. To qualify, applicants were required to have worked at least part-time for 11 of those 13 weeks and have filed an application by Dec. 31, 2020.

The inspiration for this program was derived from a similar World War ll program that supported returning soldiers with educational opportunities. Futures for Frontliners will also help Whitmer's "Sixty by 30" initiative (sixtyby30.org). This is a state-wide goal she set back in February 2019 to increase the number of working-age adults who have a skill certificate or college degree from 45% to 60% by 2030 in order to increase economic growth and make the state's workforce more appealing.
​
While Northwestern Michigan College has seen a 15.2% drop in enrollment this spring semester, this is the first semester the scholarship has been utilized. There are a total of 470 Frontliners currently enrolled in the scholarship program; 180 of these students weren't taking classes last semester.

One of these applications came from Falechia Barry, a home health aid in Grand Traverse County. Through the Futures for Frontliners program, she's now a Freshwater Studies major.

"It's not easy being a home health aide," she said. It's Barry's job to work with her clients—administering medication, bathing them, and helping to transfer patients from beds to wheelchairs, grocery shopping, cooking—basically acting as an extra set of hands and feet. She notes the low pay and added work from the intense COVID procedures as additional burdens she must carry right now, along with the general stress over the pandemic. "I am not afraid of COVID affecting me but I'm scared of bringing it to my weak loved ones since I am the only person in and out of their place."

Despite the extra struggles she has faced as a frontline worker, Barry keeps an eye toward the future. "I had already started taking classes by the time Frontliners came along," Barry explained. "My first semester I had taken four classes and just about lost my mind. I didn't realize how much of me it was gonna take before getting into it."

Barry dropped out of high school at age 14 and later completed her GED in 2018. These first few semesters have been tough as she tries to discover the balance of work, personal life, and being a new college student with loads on your plate every day after class. "It's a lot of just going until you pass out," she laughed.

When Barry's laptop broke in the middle of finals week last semester, it was the support from her Frontliners money that helped her get a new one so that she could finish up the classes that she'd been working so hard on. "Getting used to computers has been extremely hard," she said. With all of the programs that she has to learn for her specific major, as well as the NMC homepage and student websites, it's easy to see how someone new to it could get lost. But Barry is barreling through, and rediscovering herself through it all.

"I'm able to know how much money I have, and I can know how much I have coming in," Barry explained. It makes things—like needing to run out and buy a new laptop on the fly—a bit less of a complete panic. "'I have this money from Frontliners that will help me,' I think." However, Barry notes that the scholarship funds cannot be used to cover the additional fees for those "out of district" like herself, a restriction that feels to her "a little unfair."

Without any previous higher education, Barry wasn't sure what exactly she should expect with getting back into the scholastic system. Life filled with four classes and two jobs didn't feel healthy. "I was working two jobs, but with Frontliners and [a] Pell Grant, I was able to drop down to one job."
Now, settling in, Barry is looking to the future. With only two classes, and enough coming in with help from NMC and the Futures for Frontliners program, she finally feels like she can breathe again.